City proceed to the fifth round of the FA Cup for only the sixth time since the 1920s. The Bluebirds reached the round of 16 in the 1948/49, 1949/50, and 1957/58 competitions, then twice in the 1970s in 1971/72 and 1976/77. Most recently, they got as far as the fifth round in 1993/94. City last won a fifth-round game no less than 81 years ago, when the Bluebirds beat Bolton 2-0 on their way to lifting the cup at Wembley on April 23, 1927.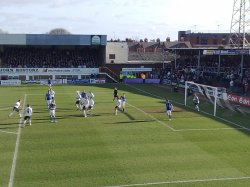 McNaughton (out of picture) volleys in City's opener
Today's 2 - 1 win over Hereford was a little more nervy than it needed to be. City were comfortable enough at 2 - 0 but after conceding a 77th minute goal Cardiff lapsed into desperate defending mode as we've seen too many times already this season. Thankfully we were able to keep the home side out and put ourselves into Monday's draw.
A bright sunny Edgar St welcomed a crowd of 6855 of which 1488 were Cardiff fans. The away support housed in the Floors to Go stand alongside the
pitch and a small enclosure behind the goal that City attacked in the first half. Leaving Cardiff at 10.40am I was parked up near the ground before 12, a very easy journey just over the border.
Cardiff always looked the better side despite Hereford have a few first half attempts. They were never really troubling the City goal with most going high and wide. Paul Parry nearly scored in the opening 2 minutes forcing an excellent save from the Hereford keeper.
Parry again slotted a shot wide and McNaughton hit the side netting before City took the lead in first half injury time.
A ball in the box bounced out to Kevin McNaughton and his 20 yard volley whistled into the net past a static keeper.
It was McNaughton who was responsible for City taking a two goal lead. His one-two at pace with Paul Parry was too good for Hereford sub Clint Easton (his parents must have known) and Kev was bundled to the ground for a nailed on penalty. Steve Thompson sent the keeper the wrong way and City had total control.
But as we've seen time and time again we allowed Hereford back into the game with a goal scored on 77 mins. Then for most of the remainder of the match we were hanging on with Hereford causing some butterflies with several efforts at goal. Thankfully a combination of defence and keeper kept them out. Joe Ledley did come close to making it 3 - 1 when either a clever chip or more likely a mishit cross hit the bar before the ball was cleared.
Andy D'Urso's full time whistle came as a relief and now City are in the last 16. Another easy journey home helped make it a rather pleasant day.