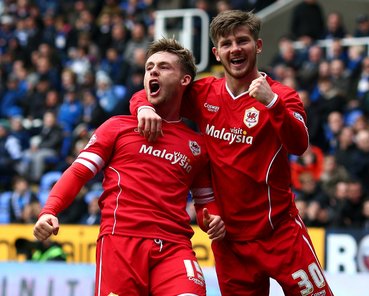 Post match reaction after City draw 1 - 1 at Reading.
"It would be nice if we could get that 10th slot and finish firmly in the top half," Russell Slade said.
"We'd like to finish the season strongly. We're now more consistent and resilient.
"It would show signs of progress and that's what you want to see as manager.
"It's important from my point of view and the players' point of view that we are progressing," Slade continued.
"Clearly we can see that now, but we want to keep that momentum going until the end of the season and finish strongly.
"The work ethic over the last three or four games has been terrific and the evidence of that is in three out of those four games we've gone a goal behind.
"But we've come back and either won the game or we've got something out of that game.
"That shows you that the players are well up for it right now."
Reading boss Steve Clarke says the upcoming FA Cup semi final with Arsenal was not on their minds when facing Cardiff.
"No, the Cup is not on the agenda today," Clarke said. "I'm just talking about the league. I thought we played well enough to get the three points. It's a game that we should have finished off long before they equalised.
"When you go into the last five minutes and it's only 1-0, you always leave yourselves vulnerable. But it's a point further away from the bottom three so we'll take it and move on to the next game.
"There was a lot of positives today. The team was good. We've said that, from the international break, we've got eight league games left and we've set ourselves a little points tally. I'm not telling you what it is but we're now a point on the way to that tally."