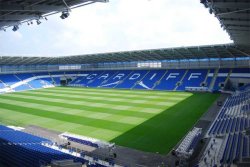 Cardiff City's haul of 87 points to win the Championship title set a new club record.
The previous best of 86 points was set when the club were promoted in 1983.
The change to 3 points for a win came in for the 81/82 season and since then City have notched up 80 points or more nine times.
The seasons ending on 2001, 2002 and 2003 saw three consecutive post 80 totals of 82, 83 and 81 pts respectively.
Another record was set last season, an attendance of 26,588 against Nottingham Forest set a new high for Cardiff City Stadium.
Ironically the lowest attendance of the season was 20,058 against Hull City (who were promoted in 2nd place) and the second lowest attendance of 20,078 was against Watford who finished third and might still go up.
Additional seats are being added this summer to increase the capacity next season to over 27,000.