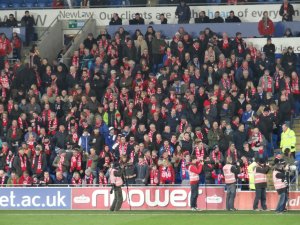 FT Cardiff 0 - 2 Brighton.
19 shots to 5
13 corners to 1
But crucially Brighton took two chances and left City floundering with a catalogue of near misses, poor finishing and good goalkeeping.
To make matters worse Hull won to close the gap to 5 points between 1st and second and Hull play again before we kick off at Wolves on Sunday.
Watford and Palace also won.
City hit the woodwork and had a penalty shout turned down as well as seeing Gunnarsson miss a free header. when brighton scored at the end of the first half after city's composure started to leave them you just felt it was going to be one of those nights.
The incredible scarf giveaway saw 95% of the crowd wear them to create a false red vision across Cardiff City Stadium. Our fans have shown they will accept anything. Should VT want to change something else in the futue then tonight's crowd game him a green light.The whole night was a disappointment.
Next up Wolves away on Sunday. Let's hope the other clubs slip up when they play on Saturday. Wolves have not won any of their last 10 league games and have dropped into the relegation zone.