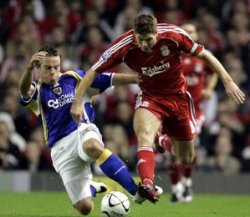 The BBC are sending a full camera crew to Church St to cover what could be one of the biggest giant killings ever.
Match of the Day Editor Paul Armstrong explained
"This time last year we picked non-league Tamworth versus Championship Norwich as one of our live games. There is a similar fixture this year in Chasetown v Cardiff. Unfortunately, the authorities and broadcasters need decisions as soon as possible after the draw. For 10 days this tie was Port Vale or Chasetown v Cardiff, and with the greatest respect to Vale, there wouldn't have been wide appeal had they won the replay as expected.
"Furthermore, there was another delay, virtually until Xmas, before it was confirmed that the Scholars Ground could stage the tie, with a lunchtime kick-off. I've already blogged about the special MOTD Live experience we had at Chasetown in 2005, and we're doing the next best thing this week by sending a full BBC multi-camera Outside Broadcast to their big day for our Saturday night highlights show."
City midfielder Gavin Rae is hoping that Cardiff City are not headlining Match of the Day for the wrong reasons.
"It is one of these games which is a real potential banana skin for us." said Rae
"What we have to do is go there and give a professional job, but it will be tough because they are going to be right up for it.
"They are getting to play us at home and they have already had a good result in the last round.
"We have to be at our best or we are going to have a problem. We must be professional there, approach it as we would any match in the Championship.
"It is a tough league, we are used to tough games and we are not expecting this game to be any different.
"I do hope none of us are going there thinking we can take our foot off the gas because we can't.
"It is one of those games you do not want to make any more difficult for yourself than it already is."