Would you believe that thanks to that fantastic finish against Coventry City on Saturday the Bluebirds have extended their home unbeaten run in FA Cup matches to 16? It's true. Since losing at home to Gillingham 2-0 in the second round of the 1996-97 competition, City have rattled off 16 FA Cup matches in a row at home without suffering a single defeat. Here's the list:
1997-98
Slough Town W 3-2 - 1st rd replay
Hendon W 3-1 - 2nd rd
Oldham Athletic W 1-0 - 3rd rd
Reading D 1-1 - 4th rd
1998-99
Chester City W 6-0 - 1sr rd
Hednesford Town W 3-1 - 2nd rd
Yeovil Town D 1-1 - 3rd rd
1999-2000

Leyton Orient W 3-1 - 1st rd replay
Bury W 1-0 - 2nd rd replay
2000-01
Bristol Rovers W 5-1 - 1st rd
Cheltenham Town W 3-1 - 2nd rd
Crewe Alexandra D 1-1 - 3rd rd
2001-02

Port Vale W 3-0 - 2nd rd
Leeds United W 2-1 - 3rd rd
2002-03
Tranmere Rovers W 2-1 - 1st rd replay
Coventry City D 2-2 - 3rd rd
A total of 12 wins and four draws. If you count the first-round win over Tiverton Town last year (officially an away match), City's Ninian Park run in the FA Cup goes to 17.
John Heyda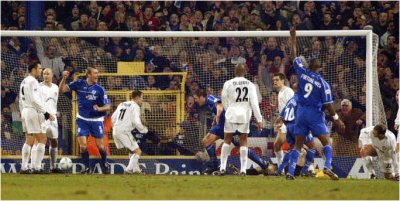 Scott Young turns to run away and celebrate the biggest victory of all the games listed above.