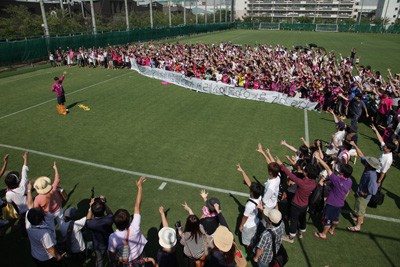 Kim Bo-Kyung is due to arrive in the UK this weekend after sorting out the paperwork on his move to Cardiff City. Kim has also been to Japan to say farewell to the fans of his former club Osaka (pictured).
Kim won a bronze medal at the Olympics with South Korea and the extra time he spent in the tournament means he's a bit late in getting back to the UK.
"We're hoping to have him in the country in next weekend. He'll probably miss the next two games," confirmed manager Malky Mackay.
"It's nothing other than the fact that Korea got to the bronze medal game, [he] flew back when they did and now he has to do some paperwork over in Korea," explained Mackay.
"It's purely administration work - we are not having to clarify status. That will take that time for him to come back in the country.
"We would love to have him back for Bristol but it's probably going to be Wolves."
The medal winning South Korean squad have been exepted from national service, compulsory to all South Korean men over the age of 18.
Kim scoring at the Olympics