Apart from spells early on and at the end of the match which totalled no more than 30 minutes at the most, Leicester always held the edge for me and, in the period before half time, their superiority was almost embarrassing - at half time I really thought City were looking down the barrel at something like a 4-1 defeat.
City had been defending pretty well since the Peterborough shambles, but yesterday was not a good day for the back four either collectively or individually. I was only saying on a messageboard on Friday that Mark Hudson had been our most consistent player for the last three months and yet yesterday his display was a reminder of his early months with us when he looked so hesitant and indecisive. Alongside Hudson, Anthony Gerrard was not much better as, like his captain, he struggled in the air against Leicester's impressive Sunderland loanee Martyn Waghorn, while the pace of those playing off the lone striker often troubled them both - it was ironic that the player who turned in the best centre back performance in a City shirt during the past week, the unlucky Gabor Gyepes, was on the bench watching his supposed betters struggle so much.
Things were not much better at full back either as a rusty Mark Kennedy's distribution was often faulty, while Paul Quinn had a tough time of it against the pacy and powerful Dany N'Guessan and, although he later redeemed himself somewhat with a triple save following a corner, David Marshall also shared in the defensive calamities with his part in Leicester's second goal.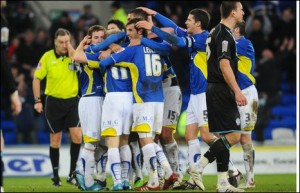 Yet, despite all of this, it is Cardiff City who find themselves in Round Five of the FA Cup this morning - how can that be? It has to be said, that we did enjoy the rub of the green a bit - Leicester manager Nigel Pearson was unhappy with Darcy Blake's challenge on N'Guessan and the immediate reaction from those around where I was sat to that penalty shout was "I've seen them given before".
However, more than that, I believe that our win was down to three factors. Firstly, the stats show that there aren't many teams about in the Championship that carry more of a goal threat than us - even with last year's twenty plus goal striker making no contribution in that department until yesterday and the man whom most would describe as the club's best finisher going through a horrible run in front of goal, we still have plenty of players capable of stepping up to the plate when we need a goal. Yesterday's goals from Jay Bothroyd and Chris Burke mean that they are still well on target to reach double double figures in the scoring stakes this season, while Peter Whittingham will now be disappointed if this season doesn't see him become the twenty goal striker that every Championship team craves at the start of a campaign!
Hopefully, Ross McCormack's goal will be the catalyst for a few more from him as well - with him having sat out a most of the first couple of the months of the campaign, you would like to think that he is one player who should still be going strong come the end of the season when others might be struggling and, injuries permitting, I would still say it is reasonable to expect something like eight goals from him between now and May.
Leicester had more possible goalscoring situations than we did, but we don't need as many opportunities to find the net as other teams because we have a few players who are above Championship standard in the finishing department if they are on their game - like many other sides we have played this season, Leicester didn't have the killer instinct in front of goal that we often possess.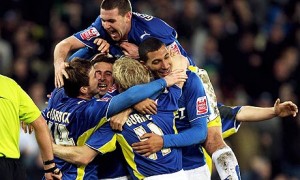 Secondly, it has to be said that since the Peterborough match, the side have shown a great deal of character in coping with an injury and illness crisis which, potentially, could have seen the season peter out this month. A further poor sequence of results following the Plymouth defeat and the Peterborough capitulation would have seen the negativity present due to our financial problems running out of control, but, although it may not be for long, the side have been able to take our minds off winding up orders through a series of performances which may have not been great in terms of quality, but have been top drawer in terms of commitment and spirit.
I'm sure there will be times in the months to come when I will return to my hobby horse concerning this group of players' lack of bottle. After all, the wounds of last spring and 28 December still run deep - although, being a typically fickle fan, I doubt very much that I will do this when the day comes, I hope I remember to balance my criticism by at least recognising that, for much of January, the whole squad stood up to be counted at a time when they could just have moped about feeling sorry for themselves.
At this stage, it should also be said that the last few weeks have proved the lie to any theories about Dave Jones having lost the dressing room - the players would not have responded like they have done if that was the case. Dave Jones does not court the popularity of fans and media and pays for that when supporters, myself included, tend to ignore the good and concentrate on the bad aspects of his management, but I would like to think that his critics would acknowledge that, given all that has been happening, Dave Jones has had a good three weeks.
Thirdly, I think a word of praise is due to us lot the supporters. For months now we have had people telling everyone that the new stadium lacks atmosphere and there have been a few times recently when, despite belonging to the "it's the people who create an atmosphere, not the stadium" camp, I have found myself thinking that they might have a point. However, the support the team got in the second half, particularly from the Canton Stand, put such negative thinking to rest for ever as far as I am concerned.
Although City were doing very little at the time to deserve such backing, the crowd started to get right behind them from around the time that Chris Burke came on and you could sense that their efforts played a part in shifting the balance of power a bit more towards us as the game entered it's closing stages - this used to happen at Ninian Park, although not as often as some claim it did, but yesterday and, to a lesser degree, last Tuesday showed that it can happen at the Cardiff City Stadium as well.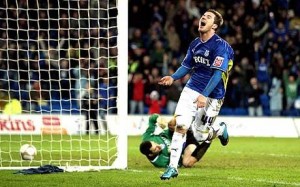 Just a few words on a couple of our players to finish. Darcy Blake was my City man of the match yesterday - okay he didn't solve our central midfield problems in one fell swoop, but he did add an ability to tackle effectively which has been missing in that area at times this season. He kept things simple with his passing, but it was often effective and, when he switched to full back, apart from that penalty shout, I thought he made a decent fist of it (N'Guessan wasn't as much of a threat as he was when he was up against Quinn). In our current situation, Blake provides exactly the sort of versatility that we need and his performance yesterday merited him being given further chances even when more of the squad are fitter and those three or four mythical new players finally turn up!
Alongside Blake, Joe Ledley continued to show improved form compared to what we saw pre Christmas - also, the television pictures show that, although probably a correct decision, the offside ruling that saw his goal disallowed was a much tighter one than I thought it was at the time. In saying that Ledley has been playing better though, he still doesn't like look a Premiership player in waiting and our central midfield is still coming off second best more often than not. However, that incident in the first half when a routine looking fall on his side saw him in obvious pain and needing treatment brought home to me that, contract wrangles or not, he deserves the respect of supporters for playing on at a time when he clearly isn't 100% fit and could easily have just insisted on having the operations on his hips a few weeks ago. I'm not going to Bristol on Tuesday so it could be that yesterday is the last time I see Joe Ledley in a City shirt and, if it is, I would just like to say thanks for some great memories Joe - the good ones will far outweigh the bad as far as I am concerned.
http://mauveandyellowarmy.net/