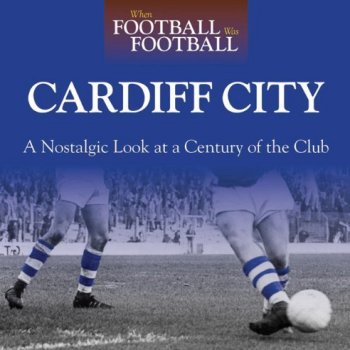 Cardiff City has given every generation of its supporters a roller coaster ride of emotions that continues to this day. Celebrating this great and proud club, the book charts its history with some fantastic photographs taken from the Daily Mirror's picture archive which gives an account that can be enjoyed by every generation of supporter from Grandad to Granchild.

The Bluebirds' history has been littered with many highs and lows from re- election to the Football league and seasons spent in Football's basement division, to the Boardroom battles that at times have almost brought this great club to its knees. Highlights include the complete FA Cup winning side of 1927, the legendary players of the 1950s like Baker, Allchurch, Charles and Ford, and details some wonderful European matches against SV Hamburg, Sporting Lisbon and the legendary Real Madrid.

When Football Was Football: Cardiff tips its hat to everybody who has shaped and formed this great club over the years. As the club now battles to attain a place in the Premier League, this book is a must for all Bluebirds fans.
To win a copy of this book please take a guess at what the official attendance will be when Cardiff play Bolton next Saturday at the Reebok Stadium.
You may need to do a little research to see the sort of crowds Bolton have been getting so far this season. Entries received after 5:00pm on Saturday will not be accepted.
The nearest guess to the actual crowd will win the book.
Email your guesses to m4morris@clara.co.uk
The book is available to purchase at outlets like Amazon and Waterstones.
Hardcover: 208 pages
Publisher: J H Haynes & Co Ltd (6 Sep 2012)
Language: English
ISBN-10: 0857331825
ISBN-13: 978-0857331823