Just guess the crowd for this Saturday's home game against Middlesbrough. Answers by email to m4morris@clara.co.uk or via the thread on www.ccmb.co.uk
There's going to be a book signing at Waterstones Cardiff on the 30th November from 6pm onwards (with a quiz and prizes) and it will be attanded by former Bluebird David Giles.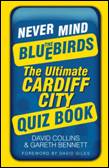 Details about the book from the publishers:
Which local South Wales side - still in existence - provided Cardiff's first ever opponents?
Which renowned international 'superstar' appeared at Ninian Park as part of his 1982 British Tour?
Here is the ultimate quiz book on Cardiff City. Informative and fun, this is the perfect companion for those long car journeys to Preston, or wet Welsh nights down the local. An ideal gift for Bluebirds fans of all ages, here's the chance to interact with the long and eventful history of the club, from formation and name changes to new stadia and Craig Bellamy. From cryptic to convivial, get your Cardiff thinking caps on – it's quiz time!
· Fun and irreverent, as well as informative
· Perfect for Cardiff fans of all ages
· Interactive introduction to the club's history
· Foreword from former player and well known pundit David Giles
David Collins and Gareth Bennett both worked on Cardiff City fanzines. Gareth is a trained journalist and keen local historian, while David has written extensively on Welsh football and Cardiff City and is a regular pundit on GTFM's Cardiff City phone-in. They are both based in Cardiff.
Never Mind the Bluebirds: The Ultimate Cardiff City Quiz Book
David Collins & Gareth Bennett
To be released October 29th at £6.99
Paperback, ISBN: 9780752479705