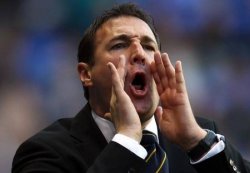 Malky Mackay is looking forward to the last four games of the season as Cardiff chase down a play off place.
"I have a confidence in the group and we have momentum to build on," says Mackay.
"We are on an unbeaten run and there is excitement going into these last four league fixtures."
"We have two weeks to apply ourselves the best we can and give ourselves a real chance of qualifying for the play-offs," he continued.
"We are at that stage of the season where we must look after ourselves, but we also look at other results.
"We are in the play-off positions and it's down to us how we produce and whether we go into the play-offs, but we must be aware of the results around us. We have that momentum.
"We have to keep believing.
"There are challengers who want to catch us and you have to look down two, three, four or five places below us.
"Leicester have come on a charge, while if somebody wins all four of their remaining matches they will have a really good chance.
"Leicester were always going to come strong because of the size and strength of their squad plus the ability of their manager.
"Our job is to focus on today's match at Barnsley and do all we can to earn three points.
"We need to win all four fixtures.
"If we do that we are in play-offs."