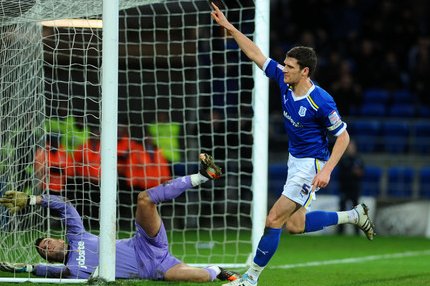 Pompey had enough time after the goal to kick off and shoot from the half way line before David Marshall's clearance signalled the final whistle. The goal literally came just 10 seconds from the end of a match that Cardiff should have won at a canter but good goalkeeping, poor finishing and sloppy defending made it a thriller.
City were on the offensive for most of the first half. Miller saw a shot saved, Mason with a clear shot at goal was also denied with Gunnarsson shooting wide and Miller clipping another effort past the post. The most stunning move of the game game saw Darcy Blake burst through from 45 yards out to close in on goal before firing wide.
In between those efforts City did score. A ball into the box from Peter Whittingham was won by Mark Hudson and as it fell Kenny Miller half volleyed into the roof of the net.
City though shot themselves in the foot. A cross was fumbled by David Marshall and the Portsmouth attacker tapped in.
City started the second half in lethargic mode. A free kick from Peter Whittingham was well saved but hestitancy in midfield allowed Pompey the chance to get forward and from the corner won they took the lead. The ball was not cleared and Halford was able to spin and score from 6 yards out.
Then we saw the worst of Portsmouth. Time wasting, fouling, gamesmanship. But City stuck to their task. They built from the back time after time. Used long cross field balls to spread play and looked to work an opening.
They were rewarded when Mark Hudson burst into the box to head home Craig Conway's cross to make it 2 - 2. And City kept on pushing. Pompey brought on Benjani who managed to foul the City defence time after time but Portsmouth were not creating chances. Cardiff plugged away and plugged away.
The board went up for three mins added time. Cardiff stuck to their task. 2 mins added time played when a free kick was won on the left. Instead of putting in a cross the ball was played to Conway who ran a bit, eyed up the goal and rifled a shot from 25 yards that never rose more than 18 inches. The keeper was stunned and his despairing dive was not enough to save the goal.
Portsmouth kicked off and tried a goal bound effort from the half way line. It went wide. Marshall kicked off and the final whistle blew with the City fans delirious.
Portsmouth supporters, to their credit, led by the bell ringing bloke continued to drum, sing and ring their support but they must have been gutted. Ha ha. I've been there and been kicked in the nuts with last minute goals. It was nice that we got the luck this time.
One gripe before i finish. Why do so many home fans leave on 85 mins? Game was 2 - 2. Anything could have happened (and did) still they stream out. More fool them.
*pic from Media Wales. Click here for more