The Midlands media apparently dubbed tonight's clash between a struggling Coventry City and a misfiring Cardiff City as a relegation struggle. To be frank, I thought that was a bit of a cheek as far as City were concerned, but, with their season still resolutely refusing to fire into any sort of sustained consistency and quality, I have to concede that the hacks might have had a point – which is more than Neil Harris' men ended up with following a 1-0 loss with a performance that was described as "drab" as the final whistle blew by the Radio Wales commentary team and has been attracting stronger adjectives than that on social media!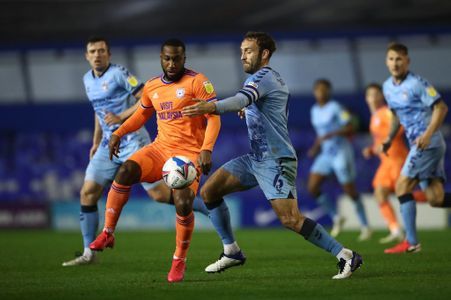 Coventry away was the first of three matches that were being offered up by many in south Wales, myself included, as an opportunity for Cardiff to turn their season around as home encounters with Luton and Huddersfield followed. However, can anyone be confident about this Cardiff City side facing any Championship side at the moment when an examination of the season's statistics so far reveal them as being no better than ordinary – and that's being generous in my assessment.
Once again, I listened to the radio commentary rather than saw the pictures, but, whereas earlier in the season I was prepared to give City the benefit of the doubt after displays which sounded pretty dreadful on the radio, there is now enough evidence to believe it when you hear someone who is watching the game saying how poorly we're playing.
Tonight was the tenth game in eleven where we failed to score in the first half and there have been a few others like this one that did not feature a single on target attempt at goal in those forty five minutes.
Given that woeful record, I suppose it's not that big a surprise that we have only scored the first goal in three of our fourteen competitive matches this season and we've now gone 1-0 down in ten of them. Again, that is an appalling stat and it has to be said that things could be so much worse if we had not been able to win the trio of matches where we have actually managed to score the first goal and that we have come back to get 1-1 draws in four of those games where we fell behind.
It is telling that in two of our wins, Forest and Barnsley, we scored inside five minutes, so we were ahead in those matches for a total of eighty eight and eighty six minutes respectively, but, even with these high numbers, we've only been in front for 212 minutes out of the 1,260 we've played in all competitions this season – that's 17%.
Those are figures that you would associate with a relegation side and so there shouldn't be shock and indignation if we're seen as being in a relegation battle – especially when you consider what the fixture list has in store for us after we face Luton and Huddersfield in the next week.
It's tempting to say that it is unfortunate that those two matches are being played at Cardiff City Stadium given our record of one win and three defeats from six matches there this season, but the formidable away form we showed through the second half of 19/20 and carried into the opening month of this season has dissipated to the extent that two points from four matches on grounds of sides who are in mid table positions at best may even be generous given the general level of performance in those games.
Even now with those stats which show that it could be argued that we're flattered by our current position of eighteenth, I'm still reluctant to see us as relegation possibles, but four points from Luton and Huddersfield have to be an absolute minimum now if a relegation scrap which has crept up on us is not to become a feature of the next six months.
By the same token, the pressure Neil Harris now faces has crept up on him, but you only have to take in the opinion of a growing number of City fans on social media since Saturday's game at Millwall to realise that our manager is in need of wins and quickly.
Tonight's team selection with Josh Murphy, in for Robert Glatzel, as the only change, suggested that Harris was generally pretty satisfied with what happened on Saturday, but, having now seen the game on the club website, I would say that the improvement in the closing minutes after Keiffer Moore's equaliser only partially covered up a multitude of sins.
Jason Perry in the Radio Wales summariser's chair was pretty enthusiastic about Murphy, playing through the middle as Harry Wilson remained on the wing, at half time because, although it had not led to a direct threat on the Coventry goal, his runs beyond Moore were offering hope if only his team mates could pick him out with a pass.
However, Murphy's game lasted around sixty five minutes, as they so often do in away games as he and the anonymous Junior Hoilett made way for Glatzel and Sheyi Ojo.
This time though, Perry's comments made me wonder if the fault for Murphy's withdrawal was all his own or was he paying for the lack of creativity and vision that characterises so much of our passing?
While we have players who can show flair and technical excellence, it appears to be applied far more on an individual basis – we have a lot of players who can ping an occasional shot into the net from twenty five yards, but there are plenty of misdirected and mishit efforts (Messrs Hoilett and Ojo being the biggest offenders when it comes to this) that fly high, wide and not very handsome when a bit more appreciation of what is happening around them might not go amiss.
Alex Smithies had denied Coventry, who certainly came over as being more lively and co ordinated than us, a couple of times before the games decisive moment arrived ten minutes into the second half when Joe Ralls played what sounded like the latest in a series of poor passes by City players and it was intercepted by Des' son, Tyler Walker who held off Sean Morrison and lobbed over the diving Smithies to put his side ahead.
I've now seen the goal and can see why Neil Harris called it a shambles. I'm a fan of Ralls, but, although his passing errors are not as commonplace as some of his team mates', he is part of the malaise whereby our passing in general is not good enough and, increasingly, the higher possession percentages we see from City are boosted by harmless passing sideways and backwards by our defenders and deep lying midfielders.
With this goal in particular, Smithies rolled the ball out to Sean Morrison as he has been doing in a manner which you would never have seen under Neil Warnock's management and I'm afraid that throughout Neil Harris' time in charge, which has seen an attempt to play from the back more and improve on poor possession percentages, there has been the nagging suspicion that this set of players do not have the required skills to be able to play like this in a manner which, probably, a majority of teams in the Premier and Football League structure do.
Morrison rolled a pass forward to Ralls. There was nothing particularly wrong with his pass and although Coventry, were pressing City high up the pitch, there should have been players showing for the ball to enable us to play around or through that press. However, this is often a problem with us, hence the passing sideways and backwards in deep areas which bumps up our possession stats a few points, but only really succeeds in delaying the inevitable pass back to Smithies and the resultant boot up the pitch to a usually isolated striker or winger.
That's what tends to happen when things don't go wrong, but this time Ralls played a pass which I'm still not sure if it was meant for Morrison or Smithies – if it was the former then it was playing the skipper into trouble and if it was the goalkeeper then the boot upfield would have come sooner than normal (and it would have had to have been a boot played quickly because Smithies would not have had much time to deal with it.
Either way, it was a potentially dangerous choice of pass by Ralls who, to be fair, had few other options available to him. Even then though, City could have got away without conceding if Morrison had not appeared more intent on playing the man (Walker) rather than the ball – his first thought seemed to be to get his body between the striker and the ball and let it run through to the keeper, but he'd got his bearings wrong, because the ball was going away from our number one and Walker had ample time to nip around Morrison and get to it before Smithies.
Within a minute another poor pass, this time by Leandro Bacuna who, try as he might, is not the answer to our right back problem, left Walker with a run in on goal, but this time the finish was wayward.
However, Coventry didn't need to worry about not creating many chances themselves after that because their opponents showed they had nothing in them to suggest they were likely to equalize as they resorted to the old faithful set piece as their only hope in the face of their failure to open up defences in open play – in truth though, even the high ball from corners, free kicks and throw ins does not carry the conviction that it once did.
From what I've seen, City had grounds for complaint when Marlon Pack (who was driving Jason Perry mad with his reluctance to pass the ball forward!) floated in a first half free kick which was diverted into his own net by a defender, but a couple of players in sky blue ended up on the floor and this persuaded referee Jeremy Simpson to penalize Morrison I believe it was.
It was certainly a contentious decision, but it represented the only instance of City being able to claim bad luck as a reason for their loss because, if the tame header straight at the home keeper Marko Marosi by Keiffer Moore straight from second half corner shown as our only other attack worth covering by Sky's very brief highlights package represented our next best attacking moment, then we could have few complaints about the outcome.
Neil Harris was right to point the finger at his players after the game because, with Joe Bennett, Smithies, Curtis Nelson, Ralls and Morrison all having to accept a fair degree of responsibility for at least one of the last three goals we've conceded, it's experienced performers who are making the errors which are costing us points and it seems to me that we've gone from being a team no one enjoyed playing against to something of a soft touch who will always give opponents something to take hope from.
However, the manager also said that he takes responsibility for results and so he should – he's the one who went into the season with one specialist right back in the senior squad and he's the one who has left us with a way of playing which is not one thing or another really – it's a mixture of the old Warnockball and the new Cardiff City version of possession football and the truth is that we're not performing either of them well enough.
For me, the fundamental problem is that, if we are trying to transform the way we play, we do not have the "play maker" in the middle of the park to get us ticking. Pack is the closest we have to such a player, but there has to be an end product in terms of creativity with any passing side and, apart from the occasional set piece, he does not provide it. Essentially, we've still got the four "bread and butter" midfielders that Neil Warnock wanted and while I feel someone like Ralls could fit into a side trying to play in a more progressive way, I believe we're two players short in that area of being able to implement the sort of changes Neil Harris wants successfully and yet our manager had a transfer window, albeit a shortened one, to do something about it and chose not to.
Harris' focus in August was on more wingers which could be explained up to a point by the Nathaniel Mendez-Laing situation, but I still don't get the need for two of them – especially when they are used on the "wrong" side of the pitch and encouraged to come infield and shoot while the inevitable, and it would appear compulsory, tall target man twiddles his thumbs waiting for a cross from a winger in open play worthy of the name.
I still look at the way we attack and wonder what we're trying to achieve, but while all of the subjects covered in the last few paragraphs are reasons for supporter disquiet when it comes to the manager, the biggest problem for me is that Neil Harris is not getting the level of performance, application and concentration out of the players that he was through the final third or so of last season when the team proved that they were one of the best six sides in the division.
Most of the players responsible for getting us to the Play Offs are still here, they've proved they're certainly better than our current position of eighteenth would indicate and with the addition of the likes of Moore and Harry Wilson, you would like to think that the current squad should be a little better than last season's. Unfortunately though a performance like last night's after the talk of the manager being under pressure on the weekend sends out a very concerning signal – for the first time, I think there is a serious possibility of there being a change of manager before Christmas.
https://mauveandyellowarmy.net/