Forget the 1-0 score line, the difference between Coventry City and Cardiff City was huge as I struggle to think of one facet of the game where we could claim to have been the better team. Even in what, sadly, have become traditional Cardiff areas of strength like aerial play, power and set pieces, we were second best by a distance – we were out – thought, out – fought, out -manouvered, outrun, outclassed and, of course, out -passed and out -skilled.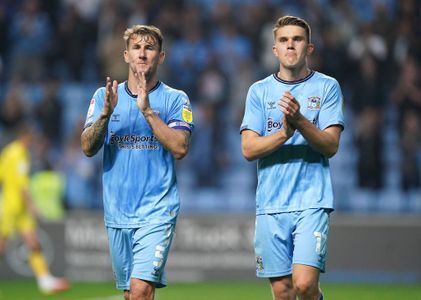 If you didn't see the match, that first paragraph may sound a bit over dramatic to you, but as I write this some fifteen minutes after the final whistle, I'm thinking that the ninety minutes represented as perfect a demonstration of the folly of the approach at the club when it comes to the first team over the past, say, six or seven years as it's possible to find.
To best demonstrate what I mean, let's consider the finances available to Coventry manager Mark Robins since he took over in 2017 from Russell Slade of all people. Slade did a reasonable job given the circumstances he had to work under at Cardiff I suppose, but, after a blink and you would have missed it dalliance with a different way of playing from what has come to be the norm here with the cheap and not too cheerful Paul Trollope, we have stuck rigidly to the Slade approach of percentage football where the set piece is all important.
Coventry could have gone down the same route by appointing a long ball merchant to succeed Slade in the same way as we've done on three occasions since he left us, but they appointed Robins and, despite having to work with a fraction of the budget available to the two Neils, he has put together a team which embarrassed us tonight – a team which, if they can add a bit more depth to their squad in January could finish in the top six based on tonight's evidence.
Contrast that with Cardiff, where I get the distinct impression that the transfer market plan has been, for every one technician we sign, there has to be three very big, power players brought in.
I've resolved not to go on about our style of play too much this season because I thought I was boring people with it and, anyway, we're rather stuck with what we've got now, so I'll bring something I could write much, much more about to a close once I've said this. Even when we tried to pass the ball tonight, it still spent far too much time in the air because the technical defects of too many of our players meant that passes of a type that Coventry players would have played along the ground became yard high balls, often played harder than they needed to be, which tested the receiver's technique much more than they should have done.
As for technique, or, more pertinently, the lack of it, it says something when our six foot five target man is better than most of his team mates in dealing with such shoddy service, but it's true – Keiffer Moore is a better footballer in terms of technique and skill than most of his team mates.
Leaving technical aspects of the game out though, the difference in speed of body and mind between the teams was alarming at times – you could tell within five minutes that Coventry had us beaten hands down when it came to pace and movement. There was a dynamism to Coventry that probably had much to do with the confidence gained from their fine start to the season, but I can remember thinking something similar when we were bullying them to a 3-1 defeat at Cardiff City Stadium back in January when, like tonight, they also seemed to have better footballers than us.
Why should that be? Well, as mentioned earlier, I don't think pace, game intelligence and technique are aspects of the game that are too close to the top of the list of requirements when we look at players and it hasn't been in the past.
That's the point, I don't really blame the players who have come into the club in recent years for games like tonight's- they are what they are and, in almost every case, they would be effective in better balanced Championship teams. They are Championship quality performers in my view, but, because of our infatuation with size, muscle and power, we have stockpiled such players and their predictable limitations help lead to them being criticised as donkeys, and worse, when things go wrong.
Again, it's hard to be critical of fans for picking on individuals, because when we play poorly, there are no saving graces. I'd enjoy watching Coventry play every week based on what I saw of them in defeat at Cardiff City Stadium earlier in the year and in victory tonight – even when they lost, I'd be able to take consolation in the fact that there would, almost inevitably, be a few things happen that would lift the spirits. What is there ever in a modern day Cardiff defeat to take consolation from? We barely ever entertain and there is hardly anybody in the squad with the sort of flair and cleverness that would get your out of your seat.
I'm probably going over the top about Coventry and, you watch, come the end of the season, we'll be above them, but their manager has made a little go a long, long way and has done so while playing an attractive brand of football, while we've made an awful lot go about fifty yards down the road and have been, mostly, boring in the process.
Yet, the crazy thing is that we could have won the game 1-0 tonight – it would have been a huge injustice, but what I say isn't far fetched. First of all, the goal we conceded was a great one if you're a Coventry fan, but unbelievably dreadful if you're a City supporter. How on earth can you go from having a throw in almost by your opponent's corner flag to going a goal behind within about ten seconds?
Now I should say here that one reason I won't be going into too much detail on the game is that, although I watched it on Sky's red button, the coverage was so basic that it felt like you were watching it from the back of a very big stand – there were no replays or close ups, so, it was hard sometimes to get a good idea what was happening.
This was the reason why I cannot be entirely sure about what I saw when it came to how the goal originated, but, before I go on to that, a little bit of background in that Will Vaulks was praised by Mick McCarthy for trying something different in the build up to our equaliser at Forest as he quickly threw it short, got the ball back and put in the cross which led to the goal.
Probably because of that, we tried a few short throw ins and corners tonight and, from memory, they were all dismal failures (credit to Coventry I suppose for acting on what they would have seen from the Forest game), but none were as disastrous as the first one was, as it seemed to me that Vaulks threw it short, but very hard, towards Rubin Colwill who miscontrolled it. From there, Coventry, demonstrating that pace of ball and body that we struggled to cope with all night, moved it to in form striker Victor Gyorkeres who burst clear of our last covering men before finishing impressively past Dillon Phillips from the edge of the penalty area.
It was a slick counter attack, but we'd made a present of it for them. Whether the loss of possession was caused by a poorly delivered throw or shoddy control of the ball by the receiver (probably there was a bit of both involved), the lack of pace in the side was also, once again. apparent.
Not surprisingly, Colwill found it much harder tonight than he did on Sunday – there was always the chance that he would be unable to live up to all of the hype since he scored his two goals , but I still found it depressing that he and Mark Harris were the ones withdrawn at half time.
Harris, especially, has been doing well for club and country lately and did not deserve that. It was both predictable and annoying management as the easy option of making youngsters the fall guys when there were others were just as culpable was taken.
Sam Bowen and James Collins came on and, for a while, the former bought some poise to our play by delivering passes that did not make many unnecessary demands of the receiver, but he was gradually sucked into the mediocrity around him and his influence diminished.
I should say though that Bowen, Colwill, Harris, Bagan and Evans (who managed to show an ability to beat a man in his ten minutes as a replacement for Vaulks that was largely absent from our display tonight) offer hope of a brighter and more enjoyable Cardiff, although expecting ones so young to come in and start to immediately put right faults that have dogged us for years is asking too much of them surely.
As for Collins, I'm afraid his only real contribution was to miss an absolute sitter as he made a right mess of the only chance we had all night when Perry Ng, the best of a bad bunch tonight I thought, did well to retain possession and deliver a lovely cross that the totally unmarked striker headed over from a central position six yards out.
That's why I say we could have won the game – don't be so careless when in an attacking position and Coventry don't score, put away a simple chance and we do.
Finally, a few words on the discipline that Coventry showed in not committing a foul until the seventy second minute. True, there were some dodgy challenges on Moore that went unpunished in the first half, but, much as I'd like to, I wouldn't put the lack of free kicks to us down to poor refereeing by Michael Salisbury.
By the time the match went into three added minutes at its end, there had only been two fouls committed by Coventry, both on Ng as it turns out, so what possessed Fankaty Dabo to go ploughing into Marlon Pack for the most obvious of red cards I don't know. However, the truth is that, even if it had happened eighty five minutes earlier, it probably wouldn't have made any difference to the outcome, such was the gap between the teams tonight.
It's the time of year again when I ask readers of Mauve and Yellow Army to make a contribution towards its running costs. Before I go into detail about this, I should, once again, offer my sincere thanks to all of you who have helped ensure the future of the blog over the past three years through a mixture of monthly payments via Patreon, monthly Standing Orders into my bank account and once a year payments via bank transfer, PayPal, cheque and cash.
The first time I made this request for assistance, it was prompted by a need for funds to pay for three yearly web hosting costs which, frankly, I was in no position to meet following my move of house a few months earlier. However, I'm pleased to say that, this time around, the web hosting bill was settled back in June with none of the problems there were back in 2018.
Therefore, any monies received this year will go towards other running costs and, although it's too early yet to make any formal commitments despite so many of the pandemic restrictions in Wales being lifted recently, I am minded to do another review of a season from the past book to follow on from "Real Madrid and all that" which looked back on the 1970/71 campaign. At the moment 1975/76, the first promotion season I experienced, looks to be favourite for the book treatment, which would mean a lot more trips back and forth to Cardiff than my finances have become used to over the past year and a half – hopefully, the majority of them will not have to be made via Radyr Cheyne!
As always, the blog will still be free to read for anyone who chooses not to make a donation towards its running costs and, apart from the one in the top right hand corner which is to do with Google Ads, you will never have to bother about installing an ad blocker to read this site because there will never be any.
Finally, as mentioned earlier, donations can be made through Patreon, PayPal, by bank transfer, cheque, Standing Order/Direct Debit and cash, e-mail me at paul.evans8153@hotmail.com for further payment details.