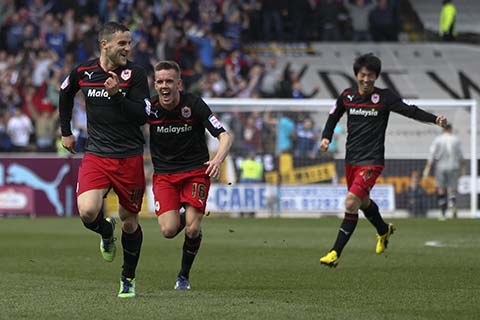 Craig Conway has left Cardiff Cty and joined Rudy Gestede at Blackburn Rovers.
Conway's move is a permenent deal on a two and a half year conract for an undisclosed fee.
"I'm just delighted to be here," Conway told Rovers official website. "I came here last night and met the manager and saw the facilities and I was really impressed, so I'm really happy to be here.
"I've spoke to Grant and Jordan a few times and asked them about the club and the manager and they had nothing but good things to say.
"My agent had spoke to Blackburn a few months ago and he had nothing but good things to say about the manager and liked his style.
"When I met him last night, he's a really nice guy and I got on really well with him, I just liked what he had to stay.
"Blackburn are a massive club, I've played at the stadium a few times, it is a great stadium with good support.
"So when I came here and saw the facilities it just sealed it."
Conway signed in time to face Blackpool tomorrow providing internatioanl clearance comes through in time.
Conway scored the goal at Burnley last season to earn the point that secured the Championship title for the Bluebirds.
Good luck at Blackburn.