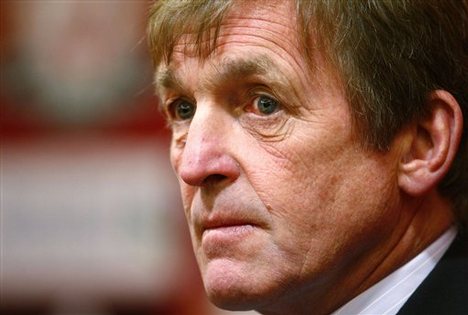 Kenny Dalglish was manager of the Liverpool team who lost 1-0 in the 1988 FA Cup final to Wimbledon, Sam Hammam's Wimbledon.
"We've seen in the past what can happen," said Dalglish.
"Everybody who is involved with our football club will take great satisfaction in being at Wembley... but it's not a foregone conclusion that we will win.
"And we should not be getting our mindset thinking it is going to be like that.
"We are playing against a Cardiff team who have achieved every bit as much as we have in getting to the final.
"They are there on merit and we will treat them with the utmost respect. We've got to the final, yes, and expect to win. But so do to Cardiff.
"They have done fantastically well to get to Wembley and we have to ensure we overcome them on the day.
"I don't think it would be a shock if everybody in football thought we were going to be favourites. But, as we know, favourites have lost before at Wembley."
Is there extra pressurebecause you are expected to win? Dalglish replied: "Not necessarily. There is always going to have to be a favourite, but you only get out of the match what you put into it.
"The emotion and nerves will be helpful to some, and detrimental to others.
"It didn't affect me too badly as a player. We had our share of victories with Liverpool and we also lost – but I don't think we won because the other people were more affected by their emotions than we were.
"And I don't think we lost because we were maybe more affected than them.
"Emotion is part and parcel of football.
"It's how you handle it. There are a lot of players going to Wembley on either side with different personalities and they will handle it totally differently.
"The fans are excited. You can just sense in and around the football club and the city of Liverpool that people are looking forward to it.
"If you're not going to enjoy getting to Wembley, you've got a bigger problem, haven't you?"