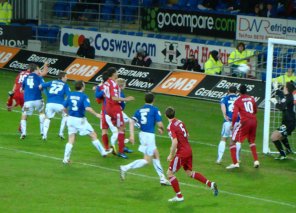 Walters (far left) heads in the opening goal.
Pic by Jon Candy
The common moan as fans left the cardiff City Stadium was why didn't Stoke score two mins from the end of the 90 rather than 2 mins into Extra Time. It was cold and not very exciting.
Both Dave Jones and Tony Pulis made wholesale changes with Cardiff without players like McNaughton, Whittingham, Bellamy, Olofinjana, Chopra and Bothroyd in the starting line up. Of those just Chopra and McNaughton were on the bench.
In came Gyepes, Blake, Drinkwater Rae, McPhail, Keogh, Parkin. Definately a weaker City line up. Stoke changed even more from their last Premier league line up.
Cardiff battled for 90 mins and matched their opponents but chances were rare for both sides. City failed to attack with pace and too many passes went backwards instead of being defence splitting. Extra time was a burden neither side really wanted and Jon Walters' two goals, a header on 92 mins and a shot from a tight angle on 115 mins won the match for Stoke who now face Wolves in round 4.
There were huge claims for a Cardiff penalty three minutes into stoppage time at the end of 90 mins but Peter Walton waved the claims away. He maybe could have waved his arms a bit more with yellow cards at Stoke players but he seemed reluctant to caution some poor and persistent fouling.
Michael Chopra came on after 60 mins or so and replaced Parkin. From that moment on any aerial threat in attack had gone and when playing a physical side like Stoke you will struggle.
I don't think Sorensen actual had a mark on his bright yellow jersey at the end.
So a decent run out for some. Gavin Rae did well and a confidence boosting performance from Lee Naylor up against Jermaine Pennant but Steve McPhail went off injured, reports coming through of a hamstring injury and I'm afraid I still can't quite see what Andy Keogh brings to the side.
Chris Burke looked sharper than he has done for a few weeks.
So out but not down. 13 and a half thousand turned up to see the game. There'll be more like 24,000 there on Saturday and a home win with the big guns back and maybe new signing Jay Emmanuel-Thomas will soon erase any memory of this game and the FA Cup will be something we see on the telly for the rest of this season.
Good luck to Stoke for the rest of the competition.