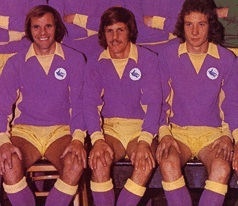 Cardiff City considerations aside, 24 April was a day I had been looking forward to for a couple of weeks. It was the day I had been promised that I would finally get my fibre broadband service back – nearly five weeks after my house move on 23 March.

The problems had started on day one. There was no phone or broadband cable in the new house, so I'd arranged for a BT engineer to come and install them on the afternoon of my move. However, with the lines having to be installed at the back of the house, this had to be abandoned because the back gate could not be opened, so the engineer could not gain the necessary access.

Frequent application of liberal amounts of WD40 overcame this problem eventually, but it meant that the installation of the phone and broadband lines took about ten days, rather than the few hours I hoped it would. In the meantime I purchased a Mifi device which enabled me to browse on line, but was very expensive when it came to streaming and so, after watching the Sheffield United match live, I gave up on that as an option.

So, once the situation with BT had been sorted, I had a choice between the Mifi and an ADSL connection for my useless John Lewis Broadband router – again, browsing and keeping things like this blog up to date, albeit at reduced speeds from those I had in my old house, was possible via the router, but any attempts at streaming were eventually doomed to failure even on the very rare occasions when I had a decent picture for a while.

For reasons I never really got to the bottom of, it took another fortnight for an engineer to go to the closest green box to my new home and switch my connection from ADSL to fibre, but when my router Internet connection packed up completely at lunchtime on Monday, it did occur to me that the switch might be being made a day early.

The 24th dawned with me still having no Internet through my router, but when I contacted John Lewis Broadband and had it confirmed that I should now be getting a fibre broadband service, the "expertise" I had acquired in the countless calls I had made to them in the last month or so clicked in and I was able to make a few adjustments myself. This meant that, when I was finally put through to him, the customer service guy said I had already done what he was going to tell me to do and, from his checks, I now had a "very strong" fibre connection.

So, finally, I had a "proper" broadband service and to celebrate I decided to watch something on BBC IPlayer. For a minute or two, the stream worked perfectly, but then there was the occasional buffering which soon became continuous and eventually I had an "unable to continue" message. A check of the router soon revealed the problem – it had completely packed up with no lights going on and off, nothing to confirm it was even getting an electrical supply, nothing!

All of which means that I'm back to square one and the delay this time is down to me waiting for a new router to arrive – I await the new problem which will arise when it does with a morbid fascination!

Sorry for all of the above, but I thought I'd explain why this, like my piece on the Villa game, is different from the usual post match analysis you read on here – I'm writing this a few minutes after the final whistle has blown to end Cardiff City's 3-1 defeat at Pride Park by Derby County based purely on what I heard from the Radio Wales commentary of the game.

In a way, it's quite good that I'm doing this, because apart from some end of game analysis from Rob Phillips and Danny Gabbidon, I've not had the opinion I formed while listening to their commentary influenced by anything I've read and heard from other sources following our defeat.

You may think that, with your advantage of having actually watched what happened, what I say is rubbish and perhaps it is, but it will be what I feel now about our chances of finishing in the top two.

The first thing to say is that I always viewed the rearranged Derby game as something of a free hit for us. Defeat wouldn't be disastrous, because, essentially, we were still in the position we found ourselves in after the Villa game – beat all of the series of sides we were due to face with little or nothing to play for and we'd go up in second position.

We managed to do that against Norwich and Forest and now we're left with games at Hull and at home to Reading – win those and Fulham can't overhaul us.

Our remaining games are of a type that we've tended to win all season, so, with that one point advantage we enjoy, there are still grounds for genuine optimism, but, having definitely been in the glass half full camp following our win at Norwich and Brentford's late, late equaliser at Fulham, I think the odds are now against us after this latest setback.

For a start, I know the Championship is often reported as a league where anyone can beat anyone, but already relegated Sunderland winning or drawing at Fulham on Friday? I don't think so. Also, with Barnsley losing their game in hand at Forest, it looks more likely that Birmingham will have nothing to play for when they entertain our rivals on the final day of the season – we should prepare as if Fulham are going to get six more points because, in all likelihood, that is precisely what is going to happen.

There is some good news in that the Barnsley result also makes a Reading relegation a lot less likely and they have a good opportunity to end their worries once and for all when they host Ipswich on Saturday.

So, with Hull now mathematically safe from the drop and Reading likely to be, we should be alright shouldn't we? No, I'm not sure we will be.

I'll come to why I think that shortly, but, first I'd like to make a few remarks about Neil Warnock's selection – when I saw the names of Madine and Ward in the starting line up, I immediately thought "what's he playing at?".

However, I've asked exactly the same question on a few occasions upon hearing the team he's picked and had to concede at the end of the match that our manager had got it right, again!

My impression is that he didn't mess up in his selection either at Derby, because, with a 1-0 lead at the break after what seemed like a pretty comfortable first forty five minutes, the problem doesn't appear to have been with the starting eleven – it seems to me that we didn't lose because of Gary Madine and Jamie Ward.

Following Saturday's match, I detected what was almost a sense of wonderment about how we seldom seemed to play well, yet, invariably, ended up with the three points. It was a view I shared – I'd say the only really good performance we've turned in this year came at Leeds and, even then, we were up against ten men for most of the game.

In my piece on the Forest game, I put this very welcome trait down to our steely determination and will to win – mentally, we were stronger than virtually every team we meet. However, does that really hold water, when we've imploded in two of our last five games?

Okay, you can say that the ridiculous two missed penalties after the ninety minute mark was down to an implosion from a couple of individuals rather than the whole team, but I maintain that we did not play well against Wolves and, unlike many others connected with City in one form or another, believe that the result was a fair representation of how things went that night. On the really big occasion, we didn't perform and ended up losing in a way that automatic promotion teams do not do.

Now we have another implosion at Derby. I may only have the words of two people to go on, but I got the distinct impression that the three goals which our opponents scored to bury us in the second half were all down to individual errors. Yes, the possibility exists that Messrs Phillips and Gabbidon were wrong, but I suspect not – again, we did not cope in a high pressure situation.

Although we're still in the same position as were before the game in many ways (win two matches and we're up), the circumstances behind this setback have to pose questions – barring the sort of miracle which, frankly, I don't believe in, the pressure is going to continue right up until a week Sunday, are City equipped to cope with that?