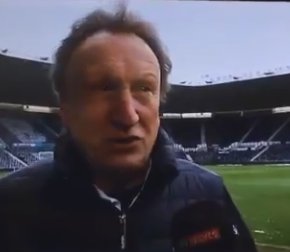 But it's snow joke for the thousands from south Wales who had already set off to the east Midlands.
Derby County called off today's game against Cardiff City after snow fell in the area. It's left a sour taste after Cardiff fans had made their way to Derby, the team and officials were there and the game was due to be televised live on Sky.
News reports from the ground show a perfectly palyable pitch with no snow on it, and the clubs own MegaStore tweeted that there were open and encouraged fans to come and visit (the tweet was then deleted).
The restaurant at the ground also tweeted that it was open and welcoming customers but they have now back-tracked and said they are closed after receiving safety advice.
To be honest the whole thing stinks.
Derby are massively out of form and have a long injury list (yeah, tell us about it) so it's not taken too much calculation to put 2 and 2 together. Of course the snow is a great excuse and there's no way to prove anything but the decisions and actions from Derby County today seem far from acceptable.
Neil Warnock, speaking at the side of the pitch said
"We've got some of our fans outside that have travelled a distance, we've got some Derby fans outside that have come from miles away.

"I'm sorry I can't accept that today – safety? We've come out from the middle of the countryside in the coach and the roads have been perfectly alright, so I just don't know where they're coming from with this. It leaves a sour taste for all the people that have travelled."
Warnock also alluded to Derby's injuries and said he wasn't surprised the game was off after hearing Derby's pre match comments.
Warnock said that it's embarrassing for Derby. When asked for a responce by Sky Sports News Derby County declined to comment
Cardiff therefore go into the international break with a seven point lead over 3rd place Fulham and a game in hand.
No new date has been set for this game yet.
"Now the Football League will try to force us to play the next available date," said Warnock. "which gives us three tough away games, so we're going to have to fight tooth and nail against that - we want it a week later than that. We shouldn't be punished for something like this because this is not our doing. I believe it's a big travesty, this today."