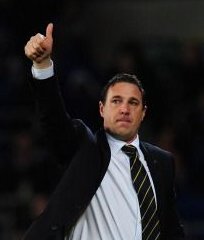 The City boss has become a dream appointment after half a season in charge and has the potential to take City into the record books with a possible Wembley final and the chance of promotion to the Premier League.
'Initially when I sat there on day one and looked at only 10 players, I thought I needed to do something pretty quickly as I had a game at Upton Park in six weeks,' Mackay explains.

'Six members of staff and 12 players went out in the summer, and we were left with 10, five of whom hadn't been playing. Expectation back then was just about assembling a group of players who were willing to work. But we have done okay.'
Okay? Flippin marvellous might be a better expression. Nothing won yet of course but it's enjoyable and unexpected.
The full article and more comments are here:
http://www.dailymail.co.uk/sport/football/article-2084387/Carling-Cup-semi-final-Malky-Mackay-Bluebirds-flying-high.html