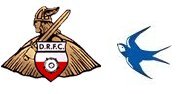 A spokesman for the stadium management company said: "The SMC are totally behind Doncaster Rovers' bid for success within the Npower Championship and support all the stadium's tenants wherever possible.
"After discussions with Doncaster Rovers this afternoon a decision was made to allow the first team to train on the main pitch this Friday in this instance. The quality of the playing surface ahead of our weekend fixture is our main priority."
Dave Morris, Doncaster Rovers' chief executive, said: "We're glad that the situation has been resolved and appreciate the co-operation of the stadium management company."
The club had initially been refused the use of the pitch to train ahead of the game with Cardiff City on Saturday afternoon.