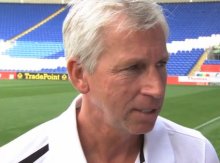 "I think we were caught out by the dynamic start from Cardiff," admitted Newcastle boss Alan Pardew.
"They are a well motivated side and I have always been impressed by them.
"I can see them right up there battling for promotion."
Cardiff were 3 - 0 after half an hour and Newcastle were beaten. The game ended 4 - 1 and Malky was pleased with his teams performance.
"We knew it was going to be a tough test" he said, "but I was delighted by the attitude and the application of my squad against some very good players.
"I thought we passed the ball well, especially in the first half, and scored some very good goals."
Mackay admitted the controversy around the home red shirts, worn for the first time yesterday, had not played on his squad's minds.
"There were 5,000 people here for the launch on Friday and you could sense the feel-good factor around the club," he said.
"I think most of the fan base realise we want to go forward and are with us in that.
"We are probably one of 10 clubs with great expectations on us, especially after the investment and the signing of Craig Bellamy.
"But I have my own targets to where I want the club to go," he added, without revealing any more.