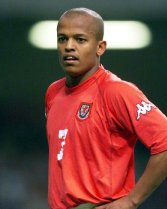 That's 1 behind Stan Richards who scored exactly 30 just after the 2nd WW.
Earnie is already the clubs record scorer with 33 league and cup so far this season but the magical 30 league goals mark is only 1 away.
Earnie gets his chance to reach 30 goals as City play Mansfield on Friday. Should he level the record or even beat it on the night he still has a further 8 games to set a record that may take more than the 56 years the current league goals record has stood.
Earnie is also the leading scorer in the UK with van Nistelrooy, Henry, Larsson, Owen and others in his wake.
History is being made.
ps Don't forget he's scored for Wales as well.