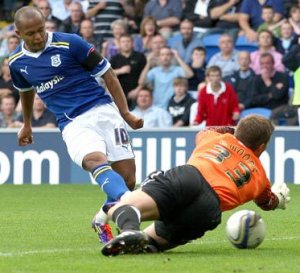 The deal was until the end of the season but Earnie is coming back now and is ready to play.
"I don't want to go too much into what, who, where. I'm coming back and that's it," he told BBC Radio Wales.
But he did say on the Maccabi Tel Aviv website: "due to certain circumstances and some family reasons I have to go back to Cardiff".
Cardiff City have confirmed Earnshaw will return home in a statement on the club's website.
"Robert Earnshaw is heading back to the club in the next few days following his loan with Maccabi Tel Aviv FC," a club statement said.
Earnshaw said he would be coming back from Israel in good form and hoped to return to the Cardiff line-up.
"I said before I came to Tel Aviv I never thought about not playing for Cardiff City again," Earnshaw insisted.
"We'll to see what happens. But I will be looking to get involved. I'm ready, I'm fit and I feel great.
"I'm happy to be coming back. Cardiff agreed have to take me back.
"I'm in a very good position because I've been involved in quite a lot of games [with Maccabi]. I'm very fit right now and I have been scoring goals as well."
Meanwhile Simon Lappin has ended his loan spell at Cardiff and has returned to Norwich City. Lappin was sent off in his first game for Cardiff, a 2 - 1 win at Barnsley, and he played in the 1 - 0 win at St Andrews on New Years Day.