First published:
http://www.espnfc.com/blog/_/name/cardiff-city/id/267?cc=5739
Cardiff City have waited 51 years for promotion to the top flight of English football and when the chance finally came they blew it. Fans knew from the start it was going to be a battle to avoid being relegated, but the club self-destructed with a series of high profile public incidents that made the task of staying up impossible.

A solid start to the campaign unravelled when the dismissal of Malky Mackay was played out in front of the media. Cardiff were expected to struggle, but the summer signings gave them a chance to survive. They may well have done so under stable ownership and management, but the ill-judged and ill-timed interference of Vincent Tan contributed to a miserable atmosphere and the limp finish that saw the club lose the last three games when victories would have saved them.

Star pupil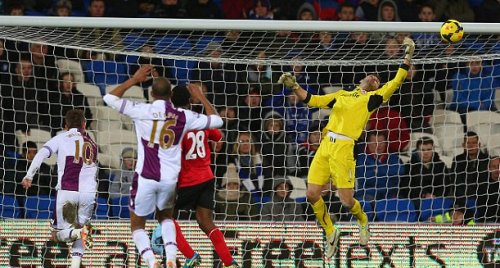 Goalkeeper David Marshall was the star performer for Cardiff City this season. Despite conceding 74 goals in 38 games, Marshall was head and shoulders above the rest as City's best player. It's no exaggeration to say City could have been close to conceding 100 goals if Marshall had not produced a selection of stunning saves match after match. Marshall was selected by a number of organisations in their team of the season and he was the only keeper to have two of his saves in a "Save of the Season" poll. During the campaign he also cemented his place as Scotland's No. 1 keeper and was one of the few good news stories from a disappointing campaign.

Detention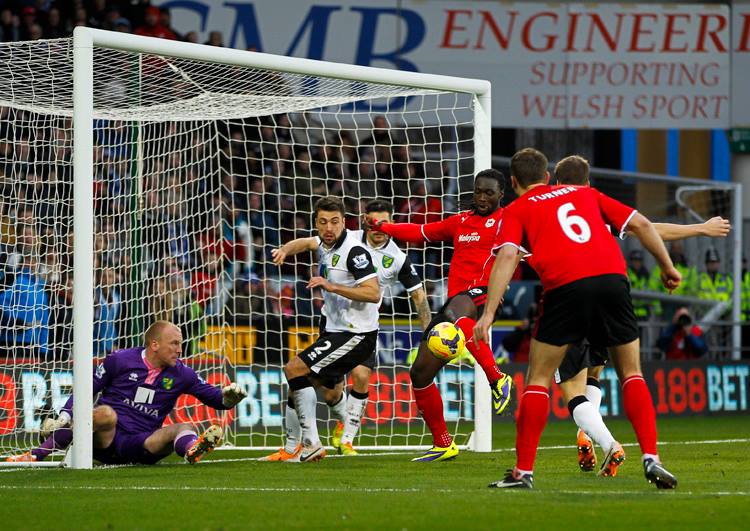 After the sacking of Mackay, Cardiff appointed Ole Gunner Solskjaer as their new manager. The Norwegian had the January transfer window to strengthen his new squad and one of the players he brought in was Kenwyne Jones. The former Stoke striker has a wealth of Premier League experience and is a strong imposing character with a big physical presence. Unfortunately when he ran onto the pitch Jones transformed into a shadow of his former self and made very little contribution in front of goal in the games he played. He did score the winning goal on his debut against Norwich but that was as good as it got. He was one player who excited when he signed but his impact after that was virtually nonexistent. Cardiff needed a goal-scoring centre-forward but unfortunately they got Jones instead.

Teacher's notes

Cardiff had two managers this season: The solid, efficient Mackay and then Solskjaer.

Early in the season, Mackay took the club into mid-table with his consistent, hardworking side. Mackay sets out not to lose games rather than trying to win them and, along the way, the team nicks goals, keeps clean sheets and builds up points. Even when he was sacked Mackay's side had not been in the bottom three.

Solskjaer joined with a reputation of being the complete opposite. He is an advocate of attacking football, played at pace with an emphasis on looking to win games. Within a few weeks Cardiff were inside the bottom three and ended the season at the bottom of the table. Solskjaer's philosophy seemed to involve drawing random squad numbers out of a hat and playing the first XI that came out. Only once did he name an unchanged lineup and the efficiency and resilience that Cardiff looked to have under Mackay disappeared as the club experienced heavy defeats against Hull, Crystal Palace, Swansea, Sunderland and Newcastle. In those five games, Solskjaer's side conceded 17 goals and scored none. Simply not good enough.

Final grade

F. The form of Marshall and the early-season victories over Man City, Swansea and Fulham were the highlights of a dreadful season. The past six months have been difficult to watch and the club needs to be careful the negativity and despondency do not carry over into the new season.

Maybe a fresh start at a lower level will allow Solskjaer to improve his managerial skills and actually develop a settled side that can make a challenge at the top of the Championship. Cardiff need unity on and off the pitch if they are going to improve this season. I'd like to say it can't get any worse but recent history shows us that bigger clubs than Cardiff -- such as Wolves and Leeds -- have both been relegated again to League 1.

I'm not sure Solskjaer is the man for the job and maybe Cardiff would stand a better chance if they brought in an experienced manager who has taken teams up from this division before. If Ole does stay in charge he has to learn quickly, otherwise it's going to be another disappointing season.