I've made a few mentions of the excellent Elis James' Feast of Football podcast over the last few months and make no apologies for doing so again, because it was on there this week that Danny Gabbidon, who appears on it with Iwan Roberts, repeated a prediction he first made a fortnight ago – Cardiff City will not win an away match in the Premier League this season.
Yesterday's 1-0 defeat by Everton at Goodison Park means that Neil Warnock's team have just the one point, from a 0-0 draw at Huddersfield in August, to show from six away games so far, so you can see where Gabbs is coming from.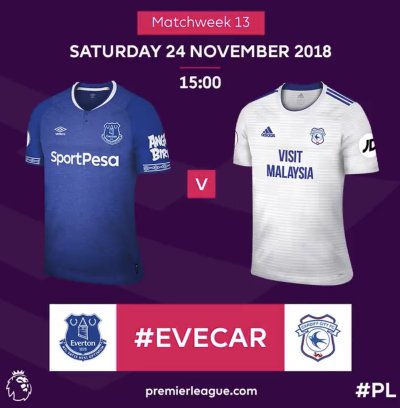 However, just as City's first ten matches this season offered hope in the fact that the majority of their fixtures had been against clubs at the top of the table, fans of an optimistic bent can take some comfort from the fact that those five defeats we have suffered have all been on the grounds of sides in the current top eight (this will become the top seven if Bournemouth can move above Man United today by avoiding defeat in their home game with Arsenal).
Bournemouth, the surprise team of the league so far, were our first away opponents on the season's opening day and after our visit to Huddersfield a fortnight later, the fixture computer landed us with trips to Chelsea, Spurs, Liverpool and Everton, so, to be fair to City, they've not had many away games yet where they could realistically contemplate possible wins.
A few weeks ago when I was looking past the fixture at Liverpool on October 27 at the run of more winnable games we had up until the New Years Day visit of Spurs, Everton did not appear to be as daunting a test as it looked just before kick off yesterday.
Last season, Everton spent the first half of the season at least looking like a possible relegation outfit despite spending something like £150 million in the transfer market in the summer of 2017. However, after a stuttering start this time around, they are now looking a much more solid outfit with their recent record of one defeat in seven matches enabling them to break into the top six and with Manchester United continuing to splutter (they drew 0-0 at home with Palace yesterday), I'd say it's not beyond the bounds of possibility that they will still be there come the end of the season.
In their last match before the November international break, Everton displayed what I believe to be the main reason for their improvement this season as they drew 0-0 with Chelsea at Stamford Bridge in a game they probably shaded – Everton appear to be much more solid defensively this time around.
Neil Warnock said that he encouraged his team to believe that they could win the match when he spoke to them at half time with the game goalless, but, for me, a point from a 0-0 draw always looked as if it was as good as it was going to get for us as, rather like in the single goal home defeat against Leicester, we looked like a side with a player who had been signed as a full back leading our attack.
As I mentioned before, I feel Callum Paterson is playing centre forward for us on merit when you consider what he has done compared to the other contenders for the role at the club, but, to repeat myself again, I can only think of Huddersfield as a possible team in this league where the Scot may get into a first choice team at centre forward.
Any hopes we had of scoring were not helped by the fact that Paterson only really had Kadeem Harris as company in terms of someone with natural attacking instincts among our other nine outfield players in the starting eleven.
While the decision to relegate Josh Murphy to the bench in favour of Harry Arter, available again after the suspension which ruled him out of the Brighton match, was understandable in many ways, it did leave us short of serious counter attacking options on the rare occasions when we could look to break.
No, my reading was that this was a starting line up designed to "keep us in the game" long enough for us to unleash the likes of Murphy on an Everton side that would have been getting increasingly desperate for a breakthrough as the minutes ticked by and, to be fair, it came pretty close to working – in terms of the denying Everton bit until the closing stages part anyway.
The fact of the matter was that City did a good job of keeping Everton at arm's length for forty five minutes or more as all members of the back four did a solid defensive job with Sol Bamba, perhaps, being the pick of the quartet.
Generally speaking though, the cover in front of them tended to tell a story of a midfield which was finding it harder to cope as a general failure to keep possession offered a clue that the task of keeping the home side quiet as attacking force was going to get increasingly difficult.
Yes, the notion that possession of the football is all important has taken something of a beating in the last year or so. However, despite the "anti football" sentiments of the likes of Jose Mourinho, who only works for clubs who have the financial resources to sign virtually any player in the world and yet he, apparently, still prefers to prey on opposition mistakes in possession for attacking opportunities, football, surely, has to be a harder game to succeed in if you are only going to have twenty nine per cent possession as we did yesterday?
Realistically, City are going to be second in the possession stakes (often by some distance) in the large majority of their games this season, so I'm not saying that I was expecting parity in that area yesterday, but there were times when players, who you know can pass the ball better than they were showing, were surprisingly sloppy.
Therefore, the game, increasingly, took on the air of inevitability that you often get when a so called inferior side does a good job of keeping their goal intact for something like 60/70 per cent of a match and yet you just know that somewhere along the line that one goal will come along somehow and all of the previous good work will be undone.
There was much to admire in City's play yesterday and, once again, you can't help but wonder about referee's attitudes when it comes to "little" teams against "big" teams in this league after yesterday's official, Paul Tierney, proved to be another one who gave us very little throughout the ninety minutes. I'm not saying he was the reason for our loss, but I do think that, often, what are always hard enough tasks anyway are made that much tougher by officials who consistently show that slight preference for the more established Premier League team.
Yet, even if you accept we did well defensively and that the ref could have been a bit kinder to us in his decision making, there is for me still a feeling that it's all not quite enough – we aren't too far away at all from being a team which can have genuine hopes of avoiding the drop, but we aren't quite there yet. For example, when Huddersfield visited Goodison earlier in the season, they found a way to get that goal and so came away with a 1-1 draw.
Therefore, I think my main concern about our away record so far is not our lack of points which, hopefully, will see us picking up some more in the next month or so from places like West Ham, Watford, Palace and Leicester, but more our lack of goals – ironically, the only ones we've scored on our travels so far have been at Stamford Bridge and Anfield.
Neil Warnock is increasingly talking in terms of what he hopes to do in the transfer market in January as he comes across as someone who recognises that the chance is definitely there to make this season a success, in our terms at least, with the right signings next month (ideally as early in the month as possible) and I hope there is some truth in the speculation linking us with a loan move for Liverpool right back Nathaniel Clyne.
If his team are prepared to let Clyne go out on loan, then I suspect there will be more attractive options than Cardiff open to the England international, but, for me, he is exactly the sort of player we should be looking to bring in if we're serious about wanting to stay in this division.
Although there are a lot of games to be played between now and January 1, our position is such that a couple more wins somewhere along the line should have us going into the transfer window still in touch with the sort of teams we'll need to overhaul if we are to survive, but I can't help thinking that our January business will have to be a bit more ambitious than what we did during the summer. Only Greg Cunningham out of our four permanent summer signings started yesterday and his place must be under threat from Joe Bennett – any January signings must, surely, have to be more likely to be regular first team picks than the quartet from the Championship brought in so far.
I didn't get to watch the whole of yesterday's match because I decided to watch my third Bleanrhondda FC game of the season so far. With my seen two, lost two record for a team whose total number of league defeats since the end of the 2016/17 campaign numbered just two, I went along to Blaenrhondda Park with the feeling that, for their own good, I would have to cease my support for my local team if I ended up watching another defeat.
Blaenrhondda's opponents were Aber Valley FC from Abertridwr, a team near the bottom of the table who were probably in a false position because of the number of games in hand they had on the sides around them.
In that respect, Aber Valley were in a similar situation to fourth placed Blaenrhondda who had six and four games games in hand respectively on the two sides immediately above them going into yesterday's game.
Happily, I'm not going to have to knock my attendance of Blaenrhondda matches on the head because they came out on top by 2-0 in a match which it's probably fair to say they did enough to win in, but not much more than that.
Blaenrhondda scored their goals quite early in either half at times when they were showing that little bit more quality than their opponents, but Aber would have led in the first few minutes if their number seven had not had a complete air shot (he may have had a bobble off a pitch which wasn't exactly trustworthy in that respect) at a great chance from fifteen yards after a fluent counter attack.
However, the home team generally looked the more likely scorers in the early minutes and they made their superiority count when they had a two on one advantage on the far post as a cross from the right came over and Shane Davies was left with a straightforward chance, which he put away with the minimum of fuss.
For a while, it looked like Blaenrhondda would be adding to their lead, but they rather lost their way in the second quarter of the match and Aber Valley got to half time believing that they were still well in the game.
However, the home side came out of the traps at the start of the second period like a team who had been told to sharpen things up and they immediately had a great chance from a one on one which ended with the keeper making a decent save. Within minutes though, they had doubled their lead after good work by Davies on the right flank culminated with one of those crosses which is into an area which makes it impossible for a goalkeeper to commit to because he isn't sure whether someone is going to get a touch on it – in this instance, although Blaenrhondda's number nine got very close to it, the cross drifted into the net at the far post.
Just as in the minutes before and after their first goal, you saw for a while why Blaenrhonnda are the highest goalscorers in their division, but, again, their intensity faded somewhat. The home team still looked the more likely scorers and were to hit the post in the closing minutes, but decent chances went a begging and the final stages could have been made a lot more tense if Aber had not been foiled by a fine save from a header from a corner and if one or two other attempts had been a shade more accurate.
In the event, Blaenrhonda were able to celebrate what I believe was a first league clean sheet of the season and with the sides in second and third places drawing with each other, it was a good day for them. They may not catch Porthcawl at the top, but look strong contenders to finish second if they can get no more than decent results in the games in hand they have.
Goalscorer Davies stood out as a talented individual whose ability to beat an opponent offers a clue as to why his team are so free scoring (Blaenrhondda have one or two other players like him), but I was most impressed by their composed number five who had to go off with an injury about midway through the second half – he always had time on the ball, defended more than adequately and was able to launch many attacks with high quality use of the ball from the back.
Once again, I'll finish with a request for support from readers by becoming my Patrons through Patreon. Full details of this scheme and the reasons why I decided to introduce it can be found here, but I should say that the feedback I have got so far has indicated a reluctance from some to use Patreon as they prefer to opt for a direct payment to me. If you are interested in becoming a patron and would prefer to make a direct contribution, please contact me at paul.evans8153@hotmail.com or in the Feedback section of the blog and I will send you my bank/PayPal details.