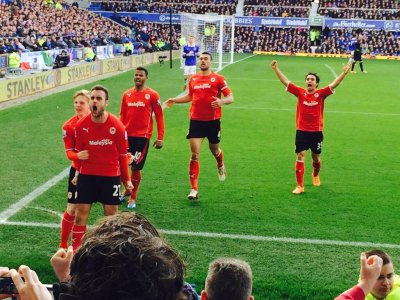 This might have been a game that Cardiff were expected to lose and after the performance it certainly wasn't a game that they can feel they should have won but to have been denied a draw in the 93rd minute was a cruel blow.
Juan Cala had scored an equaliser for Cardiff after Gerard Deulofeu had given Everton the lead with a deflected shot.
Coleman's winner at the death was another fluke as the ball came off his shin.
Throw in a referee that gave Cardiff nothing in the final 15 minutes and a home crowd that barely made a sound and it made the afternoon all the more frustrating.
Walking away from the ground to hear that Fulham and West Brom both won didn't help to lift the mood.
Cardiff still haven't won a penalty all season. Roger East's refusal to penalise Silvan Distain's trip on Wilfried Zaha today makes you wonder.
East also denied Cardiff two corners when the ball came off Everton players, those extra seconds could have been enough to have seen Cardiff hold onto a point.
David Marshall once again proved he is one of the top keepers in the Prmeier League with a string of stunning saves.
His effort was acknowledged by Everton boss Roberto Martinez, he said "David Marshall in the Cardiff goal was phenomenal. That's as good as an individual performance as you'll see."

Next week City face Liverpool at Cardiff City Stadium before a run of six games against teams not in the top seven.
Survival is still possible, and the performances in the last three games gives off some hope but it's going to take a massive effort from the eight remaining games.