Watford's Vladimir Ivic: "With two strikers, they were a danger and the best at set pieces and they scored from a set piece. They have four or five players who are dominant in the air, strong guys. But you don't play football just in the air.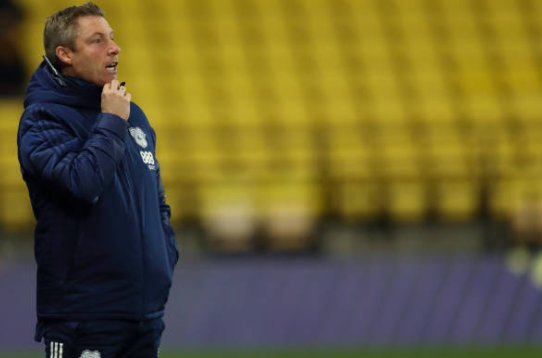 "We need to work and find the reason (for the defeat) as soon as possible because we have only a few days to prepare for the next game."
Cardiff's Neil Harris:
"It's probably one of my most enjoyable games whilst I've been in charge. We're showing our ability to score goals from open play, on the counter attack, and from set plays, as we did today. Having that ability in the Championship is key.
"The spirit in the dressing room has been excellent, and we're all together. Confidence breeds results, and at the minute we have both of them. It's certainly a statement for the rest of the league to look at, to see us climbing the table with nine points and three clean sheets. It's a big result.
"Kieffer is not just about goals. I hope he scores 20 or 30 goals this season, but he's not a typical 20 or 30 goals a season man, although he's lethal at the moment.
"We've had a lot of words with him on the training pitch and in the office with the laptop about his positional play, second balls and balls around the box. At the moment, the ball is finding him as well as him finding the ball."