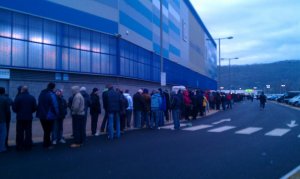 The ticket office has opened to start the sale of the 31,000 tickets available for Cardiff City fans for the Carling Cup final against Liverpool at Wembley in a fortnight's time.
Queues formed from the ticket office around the outside and then inside of the stadium as more and more people joined the line.
Tickets can also be purchased via the phone on 0844 248 5141 * and onlive via the e-ticketing website.
* Please do not use the normal ticket office phone number for Wembley tickets.
For a full list of what days tickets can be purchased and by who please visit the official website.