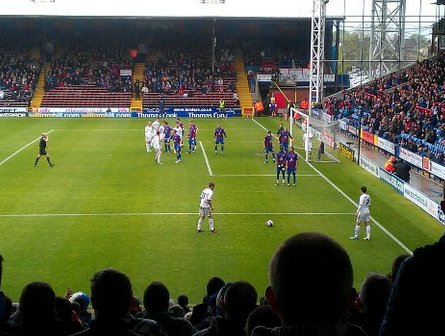 Peter Whittingham (bottom right) prepares to take a free kick that he scored to make it 1 - 1.
The Bluebirds domintaed most of the game but fell behind to a Zaha goal on the break and against the run of play on 12 minutes.
Despite near total domination of the first half City foiund their efforts thwarted by Lewis in the Palace goal.
The commentator on the coverage I was watching reminded viewers that Cardiff had never won a game this season in which they were losing at half time. Thanks.
Half time at Vicarge Rd was 0 - 0 so City were still holding onto a play off spot but only just.
Any fears were dispelled though in a nine minute spell early in the second half. Peter Whittingham's free kick from a tight angle beat everyone to make it 1 - 1 before Don Cowie volleyed the winner from 12 yards on 62 mins, that after Aron Gunnarsson's long throw was knocked down to Cowie who started today after injury.
City comfortably dealt with a mini Palace revival where the home side managed to get near the City box a couple of times and a Zaha shot went wide, and saw out out the game with no scares.
Middlesbrough's hopes had ended anyway when Watford took the lead but they did make a fight to equalise but Watford beat them 2 - 1 to see Boro finish 7th, 5 points behind City who now face West Ham in the play offs.
So in Malk Mackay's first season he's narrowly missed out on the Carling Cup, losing on penalties at Wembley, and has taken the side into the play offs. Quite remarkable. Well done.