Neil Warnock: "Probably the most disappointed I've been away from home this year. We could have quite easily come away with a result, even at half time I said 'don't think about a point, let's try and win the game'.

"I can't fault the lads, they were super. Such fine margins. Before their goal, there was a foul. You can see the lad, holding his hands up to say he hasn't touched him, a clear sign that he has.

"The players have been fantastic for me. I can't fault them. It's frustrating because I know with two or three more players, if we had them in the summer, we could be far higher than this. We've still got an opportunity to prove the bookies wrong.

"It's not easy [bringing in new players], we're working on it now. We need three, maybe four. We are working on that, but it is easier said than done. The big teams have got 40, 50 million for a player. We're no way near that. We can't spend that kind of money."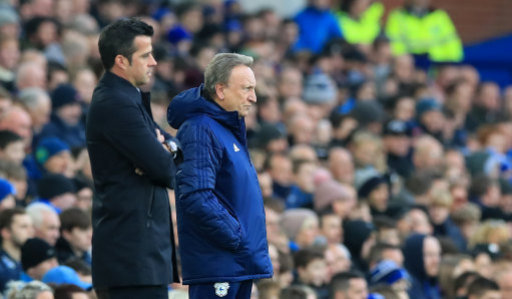 Marco Silva: "I'm really pleased. We keep taking good results, with a clean sheet, that is important. Nothing less than what we expected before the match, a tough match for sure.

"From set-pieces, throw-ins, they are really strong, so we did well. I think after 1-0, we should score the second, to be more comfortable but this is the Premier League. We were the better team on the pitch and deserved the three points.

"I know how important results are in football. It boosts our confidence. The players are working really hard.

"We change nothing [for the next few games]. We prepare the game in the same way. This is what you want to do, it is our way, and we change nothing."