CCS is now totally Cardiff City Football Clubs. The withdrawl of the Cardiff Blues means that City are the sole users and as such have set about sprucing up the stadium with new graphics, badges and even new illuminated signage at the top.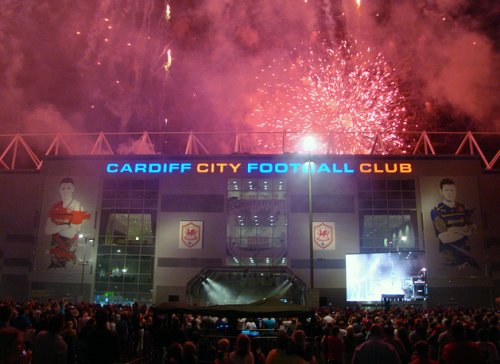 The whole event is essence was a marketing strategy and they did it very well. Music, fairground rides, food stalls, bars and the appearance of new signing Craig Bellamy on stage made it a hit with the 7,000 fans who came to the event.
The new red shirts were on sale at the club shop with youngsters soon running around with Bellamy 39 on their backs.
The razmatazz will not appeal to everyone and those who oppose the move to red would have been hugely uncomfortable seeing the club glorify it in such a way.
More pictures from Jon Candy
http://www.flickr.com/photos/joncandy/sets/72157631007983926/show/