https://mauveandyellowarmy.net/
In the ten years of this blog's existence, I have occasionally pondered what it is about certain grounds which turns capable teams into jelly – whenever they get within sight of them, all belief and form seems to just drain out of them.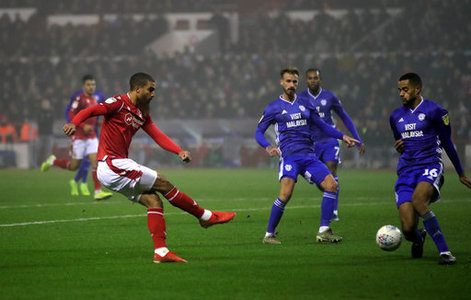 I'm 99 per cent certain that at least some of these musings have come following one or two Cardiff City defeats suffered at Deepdale, Preston down the years. It would be wrong to say that we always lose when play up at Deepdale, but we mostly do, and when it happens, it's usually very, very grisly.
I won't bore you with too much detail of Deepdale disasters, but there have been plenty of threes and fours conceded at that ground during my time supporting City, I can also remember a five, a notorious six and even a nine – I won't bother looking it up now, but I'm fairly sure there was a seven as well, not too long before I saw my first City game fifty six years ago.
Of course, it's in the nature of your pessimistic football fan, as most of us are when it comes to our team in my experience, to have committed to memory a list of grounds where it tends to go spectacularly wrong for your team. Speaking for myself at least, grounds where my team does very well do not come to mind so readily – with one exception!
By beating fourth placed Nottingham Forest 1-0 at the City Ground this afternoon, City did much more that record an overdue first away win of the season at the tenth attempt. they also set a club record. Cardiff had never won five consecutive away matches against the same side before, but today they put that right.
We won 2-1 at the City Ground on the last day of the 14/15 season and all four visits since then have seen us come out on top – Forest must be sick to the back teeth of us, because a 1-1 draw in December 2015 is all they have to show from their last five visits to Cardiff City Stadium as well!
This domination of one of the biggest clubs you find at this level on their own ground is no recent phenomenon either. You go right back to the high point in Forest's history when they were winning First Division titles, League Cups and European Cups and for much of that time you'd hear about how Forest had not lost a home match in ages.
I've done some checking and when Forest were beaten 1-0 at the City Ground by Brighton on 17 November 1979, it was their first home loss in fifty one games = the previous team to win there? Cardiff City by a Peter Sayer goal to nil on 23 April 1977.
That win over a team that would be celebrating a promotion within a week or so and a first division title a year later was the result we needed to preserve our Second Division status in one of those relegation struggles which fans of that era got used to season in, season out, but it also was the precursor of a long period of home misery for Forest at our hands.
We were beaten 3-1 during our Championship winning 12/13 campaign and Earnie scored a winning goal in a 2-1 defeat in February 2011, but they are the only losses we have suffered in a run of fourteen games, nine of which have been won, at the City Ground dating back nearly forty five years.
I'm at a complete loss as to why we do so well at the ground with the River Trent running alongside it – it's not as if we've been playing a group of players used to us winning there in recent years because it seems to me that the Forest team has an almost complete makeover every season.
Mind you, there was no way I was predicting another win before kick off despite an encouraging four points from Neil Harris' first two matches in charge, our very poor goals against record on our travels meant that I had given up on expecting away wins like I used to do sometimes during the last season we spent in the Championship.
Forest's record says that they are a better side away from home than they are at home and they have struggled for goals in front of their own fans, but only Leeds had conceded fewer at home than them, so my attitude was that one goal would probably win it for them.
As for the game, using the Mehmet Dalman method of football analysis, our win was a complete fluke. After all, the BBC's stats show that Forest came up only three short of reaching his target of thirty five shots per game, but I've hinted at my feelings on goal attempts figures in recent weeks – you can have as many of them as you like, but unless they're on target, what's the point in them?
Quite often, a high goal attempts figure tells a story of increasing desperation as a team tries pot shots from all sorts of weird angles and distances because they are unable to fashion good opportunities for themselves because of a combination of resolute defending by the opposition and a lack of the killer ball on their part.
To a degree, that's what happened to City at Charlton last weekend when we had twenty three goal attempts, but our eight on target that day was positively clinical if you consider that only two of Forest's thirty two today were on target.
The truth as I see it is that, no matter how much we talk hopefully about Neil Harris introducing a style of play which sees us passing and retaining the ball better, our improvement since he took over has largely been down to City being more like the City we became familiar with during the second half of our promotion season.
The Charlton match with it's end to end chasing a win by both teams in the second half, is looking increasingly like a diversion, an enjoyable one perhaps, but a diversion nonetheless – Neil Harris said himself that he did not want his team to play like that in the future.
What we've seen since then is classic Neil Warnock Cardiff City for most of the post Christmas part of the 17/18 season – two 1-0 wins in which we had possession figures of thirty four and thirty one per cent.
Neil Warnock assembled a squad for this season which was designed to produce, to use Nathan Blake's phrase, Warnockball on steroids, but it just didn't happen under our former manager.
What we got was a presentation of what I would call the worst elements of Warnockball and a dearth of it's best ones. The team which was supposed to be so hard to play against were anything but that, culminating in the ludicrous situation of us being "bullied" to defeat by the Jacks!
It's so ironic that it seems to have needed Neil Warnock to leave for us to start playing like a Neil Warnock team in terms of spirit, organisation and bloody mindedness.
Hopefully, our new manager will deliver when he talks about things like a larger share of possession happening in time and a progression into the first team of younger players (is there an older first team squad that ours in the Championship? I doubt it). That word time is the important one there though surely and, while we're waiting on these things, it's heartening to see that this squad is beginning to become good at the sort of things it should be good at.
Our last two wins have come about because we fashioned a good goal early on in the game and then gave our opponents very few clear sights of goal because of effective and organised defending. I'd also add that there are some encouraging signs that a few of the players who can be matchwinners at this level are finding form.
Lee Tomlin was more influential than he often is today in the first half in particular, but with the flow of play much more towards our goal after the break, he became more of a peripheral figure and may have been taken off – it was encouraging though to see him get a full ninety minutes in, possibly for the first time in his Cardiff career.
Instead, it was Nathaniel Mendez-Laing who was the one feeling the pace in the closing stages and he eventually made way for Callum Paterson with ten minutes left, but not before he had put in possibly his best performance of the season so far.
I say that not just because of his fourteenth minute goal which was typical Mendez-Laing really as he cut in from the left to curl in a low shot, which appeared to gain pace as it travelled, from twenty yards, but there were other telling interventions by him. Not least among these the one early in the second half when he ran half the length of the pitch down the right before delivering a perfect cross which left Gary Madine free to find Junior Hoilett whose shot was cleared off the line by Joe Lolley.
City really should have scored from that chance, but Madine, having got everything right as he got free of the last defender was most unstriker like in trying to set up a team mate when he looked odds on to score himself. What he did was indicative of someone, understandably, lacking confidence as he still awaits his first goal for a club he signed for some twenty two months ago,
I've been critical of Madine for most of his time with us and, like many others I would guess, was incredulous when Sheffield United took him on loan for their promotion run in last season. However, after showing hints of what such a highly rated manager as Chris Wilder saw in him at Charlton, he was good today and offered the sort of focal point in attack that we so often lack – the goals still aren't coming for Madine, but they surely will if he keeps on playing like he did at Forest and, anyway, that becomes less important if he can continue being as effective as he was today.
I've concentrated on attacking players for the last few paragraphs, but it was in defence where the game was really won. Curtis Nelson and Aden Flint made as effective a pair of centre backs as we've seen all season, it was the sort of game where Lee Peltier was seen to best effect and Joe Bennett stuck to his task despite some uncomfortable moments, while Marlon Pack and Leandro Bacuna coped a lot better defensively than they did at Charlton.
With a home game against bottom of the table Barnsley (who, of course, won for the first time since the opening day of the season today!) to come next weekend, City could get closer to the top six than their current three point deficit before a testing trio of games up to Christmas with trips to Brentford and Leeds followed by a visit from Preston – could it be that, finally, a promotion challenge is beginning to take shape?
In other games, Joel Bagan came back down to earth with a bump following his very encouraging performance for the Under 23s in front of Neil Harris last Monday when he was sent off for two yellow cards for the Under 18 team at QPR today. It was while City were down to ten that their opponents scored the equaliser which secured them a 2-2 draw – Keiron Evans levelled for City within a minute of them falling behind in the first half and Harry Pinchard looked to have secured a win when he followed up his goal for Wales Under 19s recently with one in his first game back at his club.
I drove down to the Cambrian and Clydach Vale ground this afternoon to take in my first Blaenrhondda game of the season only to discover that they are now back playing at Blaenrhondda Park after the work on the pitch which had stopped them playing there had been completed! Blaenrhondda did well enough without me though as the beat FC Cwmaman 4-2 in the Second Round of the John Owen Cup.
Unfortunately, Ton Pentre's improvement of a couple of months ago has petered out now and they lost again today by 3-1 at third in the table Caldicot Town and, once again, are involved in a struggle at the bottom of the table now – both they and Blaenrhondda are at home in a fortnight's time, so, hopefully, I'll be able to watch one of them then.
Finally, the draw for Euro 2020 was made tonight with Wales being drawn in Group A along with Italy, Switzerland and Turkey. Wales will return to Baku after their win there recently to play the Swiss and Turks on 13 and 17 June respectively before travelling to Rome to complete their group fixtures against the Italians on June 21 – with the top two and four best third placed sides in the six groups making it through to the last sixteen, a win in any of those games might well be enough to ensure progression for them.