Every now and then, the Football League fixture computer, bizarrely, deems it that both Nottingham clubs are at home on the same weekend. It happened back in August and, on that occasion, County agreed to switch their scheduled game to the following day. So, when it happened again this weekend, Forest reciprocated by moving their match against us back twenty two hours to a Sunday lunchtime one o clock kick off.
When you are challenging at the top or fighting at the bottom, such fixture changes can go either way – the later kick off can become an opportunity if results the day before go badly for your rivals, whereas wins for them only serve to ratchet up the pressure on you. However, it goes with the territory of being involved at the top end of a league that your direct competitors are sides that are used to winning, so logic dictates that, more often than not, it is a disadvantage to be the ones kicking off later, because of the likelihood that many of your opponents will have already picked up points.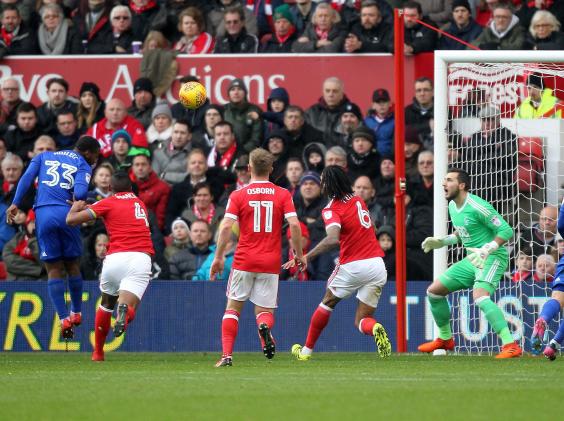 That was the position City found themselves in yesterday. Frankly, the three o clock Saturday kick offs couldn't have gone much worse for us as Wolves, Villa, Bristol City and Derby all won. The fact that the last named did so, very impressively, at Middlesbrough, who had previously occupied the last of the Play Off positions, was a small consolation and things looked slightly more encouraging after Sheffield United were only able to make it one point from their two home matches this week when they were held 1-1 by a Birmingham side with the worst away record in the division in the Saturday evening televised match.
All of this only makes the fact that Cardiff were able to go to the City Ground and win as comfortably as the 2-0 scoreline suggests all the more impressive. Sad nerds who draw great comfort from statistical quirks like the one we had going when visiting Nottingham since our relegation, might have a smidgen of disappointment that the home side did not score late on to extend the sequence of consecutive games we have won at the ground by 2-1 (all with a scoring sequence which saw us go two nil up before Forest got a late consolation) to four, but this one will cope somehow!
The win capped a great week for City who went into it two points adrift of second placed Sheffield United and end it with a buffer of three points in the second of the automatic promotion places over the Yorkshire club – also, very tellingly, there is now a gap of eleven points between us and seventh placed Middlesbrough.
All of this has been achieved without significant first team players. Kenneth Zohore had an operation to remove scar tissue around his heal in the week and after yesterday's match Neil Warnock was talking in terms of him possibly being back for the last game before Christmas at Bolton – as it is, we have been without a player who was regarded as essential to any promotion challenge for six weeks. Nathaniel Mendez-Laing (who Warnock sounded more optimistic about) has been absent for all but seven minutes of this month, while last season's Player of the Year Aron Gunnarsson is still suffering from the effects of an injury he suffered at Sunderland on 23 September – Gunnar was missing from the squad yesterday and our manager seemed uncertain about him being available for the game with Norwich on Friday night.
Mention of last season offers a reminder that Kadeem Harris, who was an important factor in an improvement which saw us move from the bottom two when Warnock took over into the top half by the end of 16/17, has yet to kick a ball in anger this season, while Omar Bogle played no part in our three latest wins and Lee Peltier was absent against Brentford after picking up suspensions – we've also not seen anything yet of Lee Camp who was thought by most to have been bought here to be our first choice goalkeeper this season.
For a team which has been assembled on a small transfer budget compared to so many others in this league and is now operating on a more realistic wage budget (it was revealed in a dialogue between the club and the Cardiff City Supporters' Trust last week that we had the third biggest wage budget in the division during the 15/16 season) to be second in the table going into December is some achievement. While it would be wrong to suggest that we are "flying below the radar" when it comes to the recognition we are getting for this, there does seem to be very little positive coverage of what we've achieved so far, more a general sniffiness about how we go about our business.
Neil Warnock got it right after yesterday's match when he said that some of the negative coverage we get is entirely down to the fact he is in charge of us. I've mentioned a few times before on here that there have been times in the past when I would have been joining in with the criticism of Neil Warnock and his methods – after all, he wouldn't have the reputation he now enjoys (I reckon "enjoys" is probably the right word to use as far as his own perspective goes!) if he had never ever done anything to justify it, but, as happens quite often in life, I think there is an element of hypocrisy involved with some of the criticism he attracts, especially from other members of his profession.
Yes, of course, any supporter is going to become more sympathetic towards a controversial manager when he becomes the man in charge of his/her team, but, as we enter the Christmas season, the term "pantomine villain" springs to mind when it comes to some of the treatment Neil Warnock, and his current team, gets.
The first sign of this came in our fourth match of the season against Wolves where their manager, members of their coaching and playing staff and many of their supporters got themselves in a right lather about our "thuggery" and gamesmanship and it's been bubbling away under the surface ever since.
It must be admitted that it's unusual for a side that is second in any table as a season gets towards its halfway point to habitually enjoy as little possession as we do. Even if, as remarked on here previously, possession of the ball is not seen as being as important as it was not too long ago, we had 30 and 31 per cent possession against Brentford and Forest respectively and, while it made little difference to the outcome on those two occasions, can you really expect to get promoted on figures as low as that? It wouldn't be surprising at all if Neil Warnock's attitude was what does it matter as long as we get three points, but I wonder if he would start getting concerned if our possession figure week in, week out was around the thirty per cent mark, as opposed to the forty per cent that it tends to be now?
However, in other respects, much of the comment we have attracted from those associated with teams we have beaten comes across as sour grapes – this has been especially the case in the last week.
Brentford manager Dean Smith got a few digs in about what a game with Cardiff entails after his side had been beaten at Cardiff City Stadium and Barnsley's Paul Heckingbottom bemoaned weak refereeing which allowed us to get away with various dubious tactics in our 1-0 win at Oakwell on Tuesday, but the reaction of Forest manager Mark Warburton to his team's defeat took things on to a different level.
Now I think Warburton is a good manager and I've said before that I wouldn't mind him being in charge down here at all, but he came across as a very frustrated and bitter man with his post match remarks yesterday, some aspects of which were, frankly, ludicrous.
To be fair Warburton made it clear that it would be too easy to resort to the "Cardiff bullied us" line that you read so much of on opposing team messageboards, but his comments on time wasting, and in particular, about the amount of time Craig Bryson took to leave the field when he was being substituted are like so much you read and hear from managers (including Neil Warnock at times).
The simple rule of thumb I often apply to any manager complaining about something an opposition manager, opposition team or match official have done to his side is would you be saying the same thing if the boot was on the other foot? The answer is almost always no and that's why I refuse to believe that Warburton would have been on the touchline telling his team to speed things up if they were away from home with a lead to defend or telling a player who was being substituted to get a move on as he left the pitch if his side were 2-0 up in the eighty second minute like City were yesterday when Bryson went off.
Mind you, Warburton's reaction was pretty mild when compared to Paul Taylor, the reporter of the Nottingham Post who really went to town on us in his post match reports. In this one where home captain Michael Mancienne claims his side are the Championship's "cream", rather than the improved, but still wildly inconsistent, team that a record of played nineteen, won nine, lost ten surely indicates, there's the obligatory reference to our "anti football". However, it's in this story where Mr Taylor really puts the boot in!
Having read it a second time, it's not quite as bad as I first thought it was. There is a recognition that we deserved to win and there are some compliments aimed at us, but they are back handed ones and, as with the Forest manager, there is the somewhat patronising recognition that "Cardiff are very good at what they do".
Now, I must admit to a perverse satisfaction in reading the bleating from other teams after we've beaten them – times when City put together a string of results like the ones we've had this season are rare enough, so they should be enjoyed to the full, but it's in the nature of being a supporter that your hackles are raised by what you see as someone having a go at your team.
Yes, if I'm being honest, I know that City under Warnock will do the things that Messrs Taylor, Warburton, Heckingbottom, Smith and others accuse them of doing once they've got a lead to defend. I also know that, although I think we can play some dynamic and effective attacking football especially when we've got our best forwards fit and available, that we are not as aesthetically pleasing as some other teams in our league, but, even so, I do get a little pissed off with the attitude which, I believe, is implicit in the damning with faint praise we receive from those who are also accusing us of being some slight on the game.
It seems to me that for all of that stuff about us being good at what we do, there is a certain snobbishness involved in much of the discussion about us this season – as someone who owned up to being something of a football snob in my piece on the Barnsley game, I feel I should know a snob when I see one!
What I mean is that there seems to be a feeling among the management and supporters of so many of the teams in the Championship that we play a kind of lowest common denominator football which they could adopt if they wanted to, but, to borrow from another sport, it's not cricket to play like that and so they pursue a more noble way of playing football.
For all of Forest's talk of what we are and how we play, what doesn't alter is that they were quite comprehensively beaten by Cardiff City yesterday. There was a simple way for them, and the others who have been critical after defeat, to have changed the way their games against us panned out – all they had to was impose themselves on us and score the first goal. We would then have played the game at the sort of tempo our opponents said they wanted it played at and our substitutions would have taken nowhere near as long if that had happened and, of course, they would have remained as eager to get on with things if they were leading wouldn't they!
If the win at Barnsley was a grind and the one against Brentford needed a fair share of luck on our part, yesterday was more like some of our early season wins – not so much in terms of the quality of the football we played, but more that it was all pretty comfortable – certainly more comfortable than most games in the Championship are.
The one moment of stand out quality came about a quarter of an hour after Junior Hoilett had nodded us in front from close range when Danny Ward received Callum Paterson's headed flick on and powered in a shot from twenty yards which flew high into the net past keeper Jordan Smith. So, just like against Brentford, we found ourselves 2-0 up with less than forty minutes played and we were able to see things out for a ninth of the targeted fifteen clean sheets with less than half of the season played.
City now have forty points, some four points behind leaders Wolves (who, I suppose, have earned the right to be condescending about the way we play because they are proving themselves to be better than us currently – but they're the only ones to have that right!) and I'll finish by making another comparison with two seasons I've mentioned quite often on here in recent months.
First, in our "flattered to deceive" season of 06/07 we had eleven wins and four draws in our first nineteen games to give us thirty seven points, but with only two wins in the previous seven games, the wheels were in the process of coming off. In the 12/13 Championship winning campaign, we 'd won twelve and drawn two of our first nineteen matches making a total of thirty eight points and were just coming off a draw at Derby following three successive victories.
That Derby game saw Joe Ralls featuring at left back and Ben Nugent making what I'm pretty sure was his first Championship start for us as injuries and suspensions took their toll, so, in many ways, that situation was much like the one we are in now where squad depth is being sorely tested. I still feel the outcome will be different from five years ago in terms of automatic promotion, but the way we are coping without so many top players is really impressive and it is does make you think how things will look once Neil Warnock has more members of his preferred starting eleven available.