I'm grateful to the BBC for confirming that this lunchtime's 2-0 win by Cardiff City against Nottingham Forest meant that an unwelcome record had been created for the hosts – they have now lost to us in the last six games played between the teams on their own ground.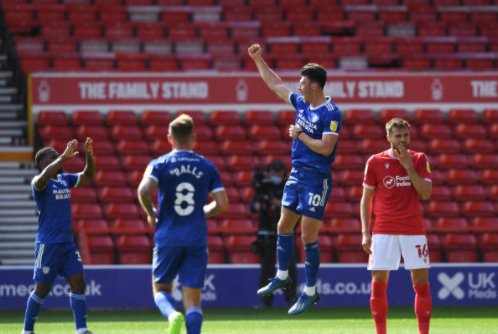 Never before have Forest lost so many times consecutively at home to the same opponent and I'd be pretty confident that we have never managed to win so many on the trot against one team on our travels.
Some football statistician somewhere may prove me wrong, but I cannot recall anything close to it happening during my fifty seven years of supporting the club. Going back further than that, there was the famous run of Third Round FA Cup wins at Elland Road all by the same 2-1 score line in consecutive seasons in the fifties, but that took place in the midst of a spell where we were suffering five successive league defeats at Elland Road!.
Also, from the research I've done for the book I'm in the process of trying to get into an acceptable format for publishing on the 1970/71 season, I found that our 1-0 defeat at Ashton Gate by Bristol City early in that campaign ended a long unbeaten record for us on that ground (the match programme mentions that we had the best post war record of any visiting side at the ground), but of the seven unbeaten games we'd played prior to that defeat, only five were won.
I occasionally muse on here about the advantages and disadvantages of where you're playing a game without ever feeling that I've come close to answering the questions I'm posing to my satisfaction. I think it's generally accepted now that any home advantage has been lessened by the introduction of Covid football, but this is something completely different – how can you begin to explain a sequence of results that has us winning at a ground on the half dozen occasions we have visited there since we were beaten 3-1 in what was, ironically, a title winning season in 12/13?
From a Forest perspective, it is a club that has had a very high turnover of managers and players in the period covered by this incredible run, so it's hardly as if they have people around the place who have been ground down so to speak by their losing sequence to us.
It's a little different from our point of view, players like Sean Morrison and Joe Ralls could well have played in all six games (having checked, they both were missing from the starting line up last season, but Morrison, returning after injury, came on as a late sub that afternoon), while Joe Bennett and Junior Hoilett have appeared in the last four of them – when you have records like those on a ground, it's got to have a positive effect on you going into your next appearance there.
That said, it seems to me that perhaps it was more the current situation that Forest find themselves in that was a major factor in today's result rather than any "Cardiff factor".
Neil Harris was quick to have a little dig at those who have been critical of our start to the new season in his post game media appearances. He has a point in my case when you consider that I had not watched either the 3-0 League Cup loss at Northampton or last week's Championship opening 2-0 home defeat by Sheffield Wednesday – I will say in my defence though that my concern was that, in terms of intensity at least, we sounded nothing like the post lockdown Cardiff City or even the one before that.
Nevertheless, our early 20/21 "crisis" was of nothing compared to the situation Forest find themselves in following their end of 19/20 collapse which saw them transformed from automatic promotion outsiders with around a month left of the campaign to missing out on the Play Offs.
While not quite as spectacular as our bottle job in 08/09 following our 6-0 hiding at Preston, to lose out on the final day by getting stuffed 4-1 on your own ground by a Stoke side with nothing to play for and then seeing Swansea manage an improbable win at Reading by the same score to pip you for sixth position is the stuff of nightmares.
When you also consider that Forest hadn't won in the five matches prior to the Stoke one, there was pressure of the wrong type around at the City Ground even before a ball was kicked this season and a 1-0 League Cup loss to Barnsley followed by an opening day 2-0 defeat at QPR only ratcheted up the uneasiness in the host's camp.
With a notoriously trigger happy ownership and Board to satisfy, it's no surprise at all to find manager Sabri Lamouchi installed as the favourite to be the first manager to be sacked in the Championship this season and his odds will surely have shortened after today.
City's late season 3-1 win at the Riverside over Neil Warnock's Middlesbrough (best wishes to our former manager for a speedy recovery after he tested positive for Covid 19 in midweek by the way) a couple of months ago was comfortable, but not as comfortable as it was in the first half for us today.
While Forest were tepid, careless and slow in that opening forty five minutes, credit also has to go to us for being spot on in our approach at a time when we could have been feeling a little sorry for ourselves.
In some ways, the match was like our game from last weekend in reverse right down to the scoreline being the same and the goal times being almost identical. Just as last week, the away team were in front inside five minutes as Keiffer Moore brushed aside a weak challenge by home centreback Figueirado to nod in a Marlon Pack corner from inside the six yard box. There were half hearted home protests for a foul by the striker or a block by Joe Ralls on keeper Samba, but, given what you see allowed by officials at every corner in football these days, the goal was never going to be disallowed.
Having scored for the first time after firing blanks against Northampton and Sheffield Wednesday, City were dominant, if not exactly threatening a second goal, for the rest of the game's first quarter as Forest fretted and fumbled, yet, bizarrely, it was they who should have found the net during this period.
Whatever else, the home side do have some gifted individuals in their ranks and one of them, Luke Freeman, on a season long loan from Sheffield United, produced a wonderful cross from the right which took out all of our defenders only for centre forward and one time City transfer target Lewis Grabban to volley over from six yards as his determination to get away a right footed shot worked against him.
That apart, City were in no trouble at all and around the half hour mark they stepped up their attacking play during a period which eventually saw their second goal arrive.
Moore was very impressive in the first half and revealed the slick footwork that sets him apart from many of the tall strikers you see around in the Championship as he ran for twenty yards before slipping a lovely, cute, little pass through to Joe Ralls who was, again, being deployed in the Lee Tomlin number ten type position.
Now, Ralls did much that was impressive today, from getting back to do his fair share defensively and putting in his usual diligent and effective shift through to making telling runs into threatening areas which Forest struggled to track, but this was the first of a couple of occasions where his first touch let him down somewhat in a manner which you suspect would not have occurred if it had been Tomlin on the receiving end of the pass.
I would say that, in Tomlin's absence, Ralls is the central midfielder best equipped to slot into the number ten role, but that's more of an indication of the sameness of our players in the middle of the park than anything else and it was no surprise to hear in his pre game press conference that Neil Harris was looking to bring in someone else in that area as Tomlin struggles to recover fully from the hamstring injury he sustained in the dying minutes of the Play Off game at Craven Cottage.
Ralls was unable to benefit from Moore's pass as he found himself beyond the last defender, but he did nothing wrong as he made the ideal run into the six yard box in support Sheyi Ojo who was generally pretty quiet, but on a couple of occasions worked very promising situations for his team with deft footwork – this time the loanee from Liverpool surely took the wrong option as he chose to try and beat Samba on his near post rather than square the ball across for the onrushing Ralls.
From the resultant corner, Forest again got themselves in a mess and Ralls' well struck effort may have gone in were it not for a desperate block which sent the ball out for a throw in.
With Morrison staying forward, Forest were again unconvincing in dealing with the ball into their box as it was scraped clear to Leandro Bacuna who headed back into the penalty area where Morrison nodded on to find Moore who had showed a goalscorer's instinct to work himself enough room to guide his shot beyond Samba from eight yards.
The likelihood was that City had already done enough to win against dispirited opponents, but, at this stage, a third goal looked on and Forest were no doubt grateful to get to the interval just the two goals down.
The similarity with last weekend's match was not so marked after half time, whereas City had made very few inroads against a resolute Sheffield Wednesday seven days earlier, Forest dominated in more than just territorial terms as they were the ones employing the same successful press that City had done earlier. Indeed, with us losing so many 50/50s and being so careless in possession, it was almost one way traffic towards our goal for the final forty five minutes..
Just as Forest had only threatened the once prior to half time, so it was the same for us in the second half as Ojo's second example of sleight of foot left Ralls in a great position unmarked close to goal, but, again, the sure touch wasn't quite there, so the rest of the game became solely about not conceding on our part.
In truth, Forest's increased determination and urgency did not fully compensate for their lack of confidence in and around their opponent's goal. Indeed, their best second half opportunity came and went within minutes of the restart as Ryan Yates got his unmarked header wrong and bounced it into the ground to enable Alex Smithies to make a routine save.
Smithies, whose handling was safe and sure throughout Forest's periods of pressure, also tipped over a Sammy Ameobi shot from distance and blocked a close range Grabban effort, but he was helped as well by good defending such as when Bennett flung himself to block a goal bound shot when Forest's pressure was at its most sustained..
Of course, if Forest could have scored then, it would have been so much more testing for City, but, generally speaking, it's at home where we have problems – a year ago, we could scarcely get a point on our travels, now winning has become a matter of course.
You had to admire one thing about Forest today though as it was revealed on Sky's commentary team that they had made £50 million in transfer fees in the past four years through the sale of players produced through their Academy.
Sadly, our chances of achieving anything remotely close that sort of figure look non existent. Today, our Under 18s went down 3-1 at Swansea after they had scored first from a James Crole penalty. This result followed on from a good 4-1 home win over Bristol City last weekend and there was no shame in today's outcome, but the day when a home grown Academy player establishes themselves in our senior team seem as far away as ever.
Certainly, our Under 23/Development team's season opener, also at Swansea, offered little sign of us having the sort of strength in depth which would see youngsters being able to step into the first team and do a decent job if required. If there was no shame in the Academy lads' loss yesterday, it's hard to say the same about the Under 23 team who were beaten 5-1 last Monday – mind you, given our team that day contained Joe Day, Greg Cunningham, Aden Flint and Mark Harris as well as Tom Sang, who featured against Northampton, not all of the blame for such a sorry defeat can be put on the young pros who featured.