For about the last seven or eight years, I've been bemoaning Cardiff City's lack of possession in games. If someone undertook the considerable task of working out an average percentage possession figure for all of the clubs to have played in Premier and/or Football League in every season since, say, 2014/15, I'd surprised if there were more than five sides with a lower figure than our – in fact, I think there may well be none.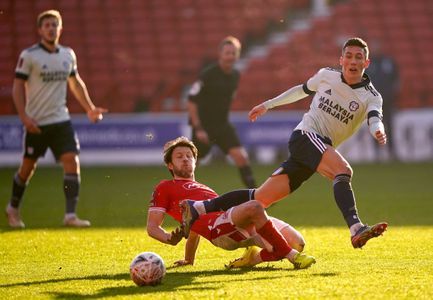 Neil Harris' appointment in November 2019 came with talk of an intention of playing more of a possession based game and, certainly in the team's fine post lockdown run to end the 19/20 season, possession percentages were slightly higher. Most importantly, results were largely good as well, but, if progress was being made on two fronts in June and July, it has stalled, and regressed on the results side in 20/21.
http://mauveandyellowarmy.net/
There hasn't been a great deal of matches this season where we have had more of the possession, but there have been enough of them to give rise to the suggestion that we are a less effective team when we have more of the ball, so the notion that our opponents think that it is to their advantage to let City have plenty of the ball is not a wholly far fetched one.
Those advancing this theory were given further backing today as City slumped to their fifth defeat in six games (thereby undoing all of the good work of late November and early December) as they made their traditional early exit from the FA Cup with a 1-0 loss at Nottingham Forest in this lunchtime's Third Round tie.
The game's only goal came as early as the third minute and after that, the home side were happy to sit back and play on the break.
These tactics certainly played a part in City enjoying sixty one per cent possession according to the BBC's stats. Indeed, there were times when the pressure on the Forest goal was non stop. That term gives a bit of a misleading impression though because, despite those stats also showing that we had fifteen goal attempts to Forest's six, the truth was that, at the end of the game, I was struggling to come up with an example of us forcing home keeper Jordan Smith into a difficult save or there being any efforts that didn't miss by much.
Robert Glatzel endured another frustrating afternoon as the opportunity given him by Keiffer Moore's injury against the jacks has, instead, turned into a period which appears to have drained him of all belief. Today, he missed what was our best chance when Josh Murphy, who, despite being subbed because it seems to be in his contract that he must always be subbed when he starts a game, was one of our best players on the day, was played in by a fine pass by Marlon Pack. The winger got past his man and there didn't seem anything wrong with his pulled back low cross, but it eluded Glatzel as, not for the first time in recent weeks, I was left wondering about a lack of anticipation among our attackers.
Apart from that, Harry Wilson had two half chances which you'd think he may have scored from if he was in a more confident frame of mind. The first was nearly all of his own making as he burst on to a misplaced pass and tried to beat Smith from twenty five yards – it was a difficult opportunity which was probably no more than a quarter chance in reality, but Wilson has the ability to score goals like that and so there it was disappointing to see a ball which sat up for him nicely be whacked quite a long way wide.
Wilson's second opportunity came when Joel Bagan, again looking at home in the first team, played one of a few intelligent forward balls that he came up with into the path of Wilson in the inside left channel, but the Wales man never looked convincing as he ended up scuffing his shot straight at Smith.
Wilson was also a little unlucky when his free kick got a slight deflection off the Forest wall and rippled the side netting and sub Junior Hoilett's first time effort from Bagan's cross flew not too far over late on, but that was about it from City as far as a possible equaliser went.
So, City ended up with nothing to show from a display that was a big improvement on their dismal showing at Wycombe and the same game as it panned our today under better circumstances (i.e. we weren't on a losing run) would I'm sure have seen a reaction akin to "we wuz robbed" from some of the same supporters who are now calling for the manager to go.
I feel a draw and extra time would have been fair today, but we are where we are and defeat to a Forest team which I'm told had eight changes from the one which played in their last Championship match and generally looked a pretty poor outfit themselves leaves Neil Harris under huge pressure going into a return fixture with league leaders Norwich who beat us comfortably at Carrow Road just before Christmas.
Injuries to Sean Morrison (who hopes to be back in a fortnight) and Sol Bamba, along with the ending of Filip Benkovic's loan from Leicester and the decision to give Dillon Phillips a debut in goal left City with a makeshift defence with Leandro Bacuna again at right back, Bagan at left back and Joe Bennett alongside Curtis Nelson in the middle.
The rejigged back line couldn't have made a worse start either – I'm afraid the dodgy stream I was watching froze as the goal was scored so I only have one replay of it to go on, but it seemed to me that Bacuna was nowhere in sight as left back Gaetong Bong crossed to Lyle Taylor who shot crisply past Phillips from twelve yards.
That apart, it was impossible to draw too many conclusions about Phillips or Bennett as a centre back because they were barely tested after that.
Much of the remaining eighty seven minutes were spent by City trying to break down a resolute, but hardly outstanding Forest team. Another thing I have tended to have a bit of a rant about in recent years on here is our annual no shows in both League and FA Cups, but I won't this time because I thought there was nothing wrong with the attitude of the team, the annoying aspect of today was how they made so little out of all of that possession.