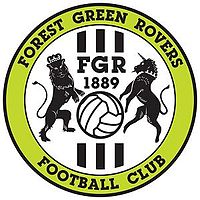 Cardiff City will face Forest Green Rovers in a pre season friendly at the end of July.
City make the trip into the Cotswolds to face David Hockaday's side who are hoping for a promotion push next season from the Conference to the Football League.
"We are delighted to be hosting Cardiff at the New Lawn," said Hockaday. "They are a great club and we hope it attracts some new fans through the gate ahead of what will be an exciting season.
"It will obviously be a big test: Cardiff just missed out on promotion to the Premier League last season and they play at a higher standard to what we are used to each week. But playing against teams like this will allow us to see where we are now and what else we need to do to get to the next level."
A suggested friendly at Yeovil is not happening. City are expected to face Barry Town in August and it's been suggested Cheltenham away as well. There will be a home friendly against a Premier League team that's reported to be Newcastle Utd.
But the only official statement on any of this if from Forest Green so wait for further updates on the other games.