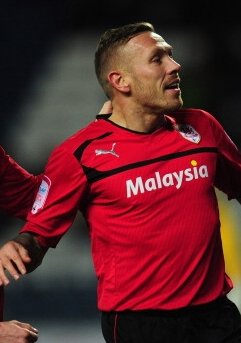 Could you have asked for anything more?
One blip, when Blackburn levelled early in the 2nd half, but that aside this was a most complete away victory and against a side just relegated from the Premier League.
FT Blackburn 1 - 4 Cardif City.
Cardiff impressed the watching Sky TV audience with a totally dominant 1st half display that was rewarded with a headed goal from Mark Hudson.
The City skipper also took a yellow card in the first half and will miss Cardiff's home game against Peterborough next weekend.
Blackburn rallied early in the 2nd half and levelled and soon after forced a superb relex from David Marshall from a deflected effort and the follow up hit the bar when the goal was gaping.
But within minutes Craig Bellamy had made it 2 - 1 to Cardiff and as the game entered the final 10 mins two goals in two mins from Joe Mason and Kim Bo Kyung confirmed the rout.
The victory has seen City open a four point gap over 2nd placed Palace but more importantly an 8 point gap over 3rd placed Leicester,.
No complaints at all. A proud night brought to you courtesy of Cardiff City Football Club.