Jones is looking to end the league season with a win, especially after the last three games have seen the club concede 9 goals.

Jones could call upon Robbie Fowler and Paul Parry to prove some sort of fitness ahead of the Final on May 17th.

Jones though says he will not be making wholesale changes.

"For a start I don't have the squad here to start fielding second-string sides or whatever," he said.
"And it is not my way to put out a weakened team anyway.
"There are people we want to take a look at and players who need time on the pitch. The Barnsley game is an opportunity to do that.
"We want to go out of the league campaign on a high and I think our fans would expect us to put out a team capable of doing that.
"I've got to put out some sort of team and I will not be keeping players back, for whatever reason."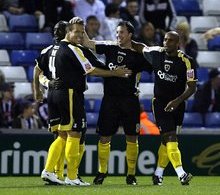 Robbie on target earlier in the season.
Jones has made his biggest hint yet that Robbie Fowler could still be at Ninian Park next season. Robbie could feature against Barnsley thereby staking a claim for a place in the Cup Final squad.
Fowler has not appeared for City since a minutes worth of action at Ashton gate in December but his long road to fitness is coming to an end.
"Robbie will start training this week and it is great for him because he has worked so hard for it," said Jones.
"We should know by Thursday how he is and if he is ready to play at least some part against Barnsley. If he is able to do that he will.
"But we are taking things carefully.
"We will not rush him back for the sake of a cup final or whatever.
"We must look at getting a full season out of him next year.
"If we can do that we will have a 20-goal striker on our hands."