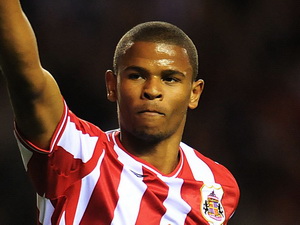 City's interest in the striker who earned an England cap less than 12 months ago came to light in the middle of last week and by Friday Malky Mackay had confirmed his interest.
The deal was concluded on Monday and Campbell is expected to fly to Dubai to join his new team mates. It's a great addition to the squad and a quality striking option as City look to capitalise on their 10 points lead at the top of the Championship.
Cambell moved to Sunderland from Man Utd. He has also played for Spurs and in a spell on loan at Hull he scored 15 goals in 32 starts to help The Tigers to promotion.
He will wear shirt No. 27.
He told the official website http://www.cardiffcityfc.co.uk
"Last time I was in the Championship we got promoted with Hull. That was brilliant and it's something I now want to do with Cardiff. The lads here have done fantastically well already this season and I'm coming in now to hopefully add to what they've achieved so far.
"The aim for us all is to get to the Premier League; when you get there, everyone is watching. I'd love to represent my country further and by performing week in week out in that division is how you do that. It's not on my agenda right now in all honesty though as we've got a lot of work left to do this season if we are to achieve our ambition of promotion in May.
I'm looking forward to the Leeds fixture - that's next on my agenda. Hopefully I'll get to know the Club and the lads a little bit better in the next week or so and then put my hand up to be involved at the start of February."