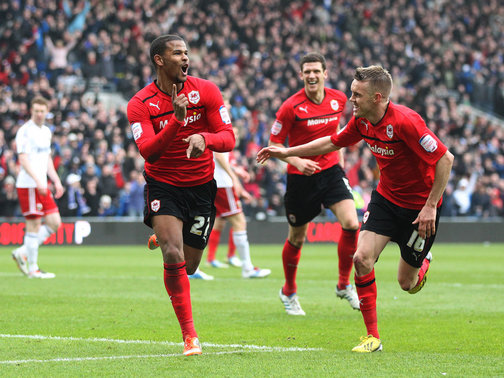 Fraizer Cambell's goals helped City win the Championship and now he's relishing be back in the Premier League.
Campbell hopes to settle at Cardiff after leaving Sunderland in January.
"I am at a stage where I want to settle at a club and really put down some roots," Campbell told The Echo. "That was my plan at Sunderland, but it didn't work out. That was upsetting.
"This club (Cardiff) feels right, though. I can have a bright future here."
"I will do everything I can to make sure this is the best spell of my career. Attitude is important."
Campbell realises the huge impact that Premier League football is going to have on Cardiff and he believes the Cardiff fans are going to play their part.
"Promotion to the Premier League is a big deal for the city of Cardiff, the football club, players, staff and everybody," he said
"Everybody is delighted for us and that showed when thousands and thousands of people turned out for the open top bus parade to celebrate the Championship title and promotion. I was blown away by that.
"They have been waiting for it a long time and it was great to share a day with the fans in that way.
"Cardiff supporters just have to be up there with the best in League football – and I'd like to think they, like the players, will prove highly competitive when it comes to passion and heart at the top level.
"They were a massive part of our title success and they will play a major role for the team next season.
"There are special times ahead for this club and we will relish that. Cardiff supporters will be alongside us again and together we can make progress."
The striker scored seven goals since arriving at Cardiff including the winner on his debut at Leeds.