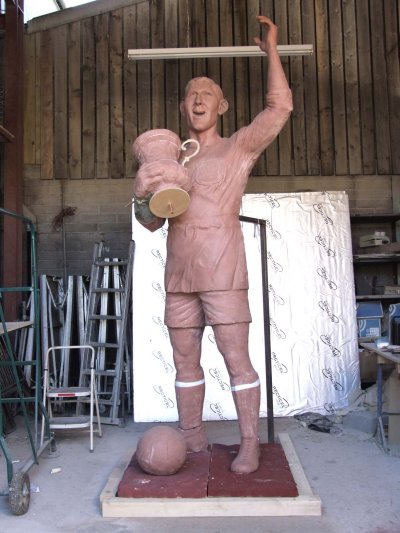 I visited sculptor Roger Andrews on Friday and I'm happy to report that everything appears to be on schedule for the unveiling of the Fred Keenor statue on Saturday 10th November.

Fellow committee members Mike Inker (aka Arfur Europe) and Graham Keenor will be accompanying Roger later this week on a visit to the foundry in Stroud, where the final stages of the work on the bronze statue are being completed. Meanwhile, the bronze plaques have been delivered by the manufacturers in Norfolk and are being added to the granite plinth panels, which have been created by stonemasons in Penarth.

Along with designer Lyndon Rhodes, I am currently in the process of putting the finishing touches to a commemorative brochure, which will be available for purchase on the day of the statue unveiling.

The brochure, which will retail at £3, contains 32 pages and is in a glossy A4 format. It is being produced in a limited edition of 1,000 and each copy will be individually numbered.

The publication includes extensive features on Fred Keenor's playing career and his international exploits with Wales, the 1927 FA Cup Final, the players and staff who won the FA Cup for Cardiff, the statue campaign and the creation of the sculpture. Contributors include Cardiff City historian Richard Shepherd, Ceri Stennett of the Football Association of Wales and artist Roger Andrews.

More information on obtaining copies of the brochure will be available closer to the day.