http://mauveandyellowarmy.net/
As I type this, Brighton have just equalised against Newcastle and I must admit there's a small part of me that is pleased because, although there's still a chance for us if it stays at 1-1. realistically, we're down now following out very disappointing performance and result at relegated Fulham.

Another week or more of thinking there's still hope doesn't appeal to me at the moment, because, having mentioned recently on here how relegation creeps up on you, today seems to me to be the day that it tapped us on the shoulder and said "yes, it's you". Sadly, after suggesting that we had it in us to take the fight, even if it turned out to be unsuccessful, to the very end, what happened today was indicative of us going down with a whimper, just like we did in 2014.

Yes, the Brighton game finished up 1-1, which means that they are currently four points in front of us. Assuming they lose to Arsenal (not a given with the way the Gunners have been performing since Aaron Ramsey's injury) and Manchester City, we know now that, given our dreadful goal difference, we have to beat Palace and Manchester United in our last two matches.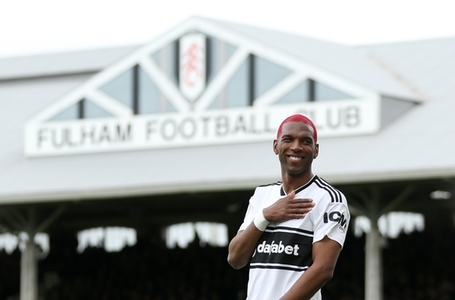 I've always believed that if Palace came here wanting to play, we would really struggle to beat them, but, if we do, does anyone really think we can go to Old Trafford and win? Yes, I know they are now back playing as poorly as they did under Mourinho, but even this vapid, anaemic version of Manchester United will not be bad enough to let us win up there.

All of the signs are that the three relegation sides will end the season having not taken a single point off the top six clubs – I might have still entertained some hope if Newcastle had been able to hold on to their lead and we could have gone to Old Trafford knowing that a draw would probably keep us up, but not when we need a win, we'll get picked off and so will, almost certainly, look back on a campaign where we would have had to garner the thirty five or so points which would have saved us from twenty six games, not thirty eight.

I'll not waste too much time talking about today's game. We were second best virtually throughout and gave the impression that we thought a 0-0 draw would be a good result in a match which, realistically, we had to win.

The dull deadlock became a bit more watchable in the second half, but not really because of much Cardiff did until they fell behind with a little over ten minutes left courtesy of a fine Ryan Babel strike.

Cardiff had a total of eight shots on target to Fulham's two. Now, that stat suggests that there was a case of daylight robbery at Craven Cottage today, but, when you consider that seven of them came after the goal, then you are looking at a team that was finally roused into some sort of attacking action as the consequences of how damaging defeat would be dawned on them.

In the final stages, Fulham keeper Rico made a number of saves of varying quality and Junior Hoilett hit the woodwork from ten yards when he probably should have scored and, as the action centred in and around the Fulham goalmouth, it is easy to understand why many City fans were thinking "if only" in terms of the tactics and attitude adopted by manager and team.

However, I'm not sure I agree with those who are saying that we almost beat ourselves by adopting a defensive attitude from the start. I found today's match a tough one to analyse and draw conclusions about for a number of reasons.

Firstly, you only have to look at the team sheet to see that this was probably the weakest eighteen we've had all season. Smithies, Bamba, Arter, Ralls, Paterson, Zohore and Josh Murphy were all absent and, while the starting eleven only showed one change (Bacuna in for Ralls), I looked at the names on our bench and immediately lost any optimism I'd built up in the hours leading up to the match.

I ask this question in all seriousness – if you consider how the career of some of these players has gone and how little first team football others have played lately, has there ever been a weaker subs bench for a Premier League game than;-

Brian Murphy

Jazz Richards

Greg Cunningham

Kadeem Harris

Danny Ward

Bobby Decordova-Reid

and Rhys Healey?

Now I should say that some of that seven could make decent Premier League performers and, as mentioned before, there's at least one there who would be a different proposition if he had not spent so much time out injured, but in what should have been seen as a must win game there are only one, maybe two, names there that come over as candidates to come on and play a part in turning around a losing cause.

So, I look at a starting eleven with a weaker looking midfield than normal, a striker who doesn't score goals and wingers who have been inconsistent for most of the season and see a team that isn't really equipped to push even an already relegated team back on to the defensive from the start in a match where nothing but three points will do.

Put that with a bench that offered few options if things were going wrong and my natural inclination would be to be sympathetic to manager and players for the bad luck which saw them go into such an important match with such a depleted squad.

But, did it have to be so depleted? I listed seven missing players earlier – well, we know Alex Smithies has been having injury problems for some time, Sol Bamba, Callum Paterson and Joe Ralls are out for the season and that Harry Arter was touch and go for today after the freakish injury he suffered while being substituted at Burnley. Apparently, Kenneth Zohore had "some tightness in his quad" according to Neil Warnock and, as Danny Ward had, along with Rhys Healey, been the "best two lads in training this week", they were included – our manager's comment that "I reward the lads who do it in training now", rather suggested that this was some sort of change of approach on his part.

This leads me on to Josh Murphy who, it seems, was fit and available for selection, but, as is made clear in this piece, had been anything but impressive in training according to our manager.

Now, I know all about that line saying supporters don't see what goes on in training every day and, if it was, say, October and you wanted to make a point to someone who you considered was not given their all, then I would see some point in omitting the player concerned. However, we're nearly into May now and, surely, when your team has so many first teamers out with injuries, it's cutting your nose to spite your face when you leave one of your two most expensive buys out of the squad completely?

For me, this goes to the heart of the Warnock philosophy of football management – toil over talent, grafters over mavericks. Such an approach has it's merits in the ultra competitive Championship where the margins, even between top and bottom, can be very fine ones, but in the Premier League?

For me, the answer to that question is no. In the Premier League, the choice is not one of graft over craft or vice versa because, with so many of the players at this level you get both of them – you also get opponents physically strong enough to nullify any advantage in size and/or power you may have enjoyed in the Championship.

If we are talking about Josh Murphy against some of those who were preferred to him on the bench today, then I would say that he has often put the defensive effort in that Neil Warnock demands from his wingers. Granted, he has tended to be less effective in away matches, but I have to say that I find his omission and our manager's comments about him today baffling and hardly what you'd expect from someone who is generally credited with being a good man manager.

Similarly, I cannot fathom how both Ward and Healey got on the pitch before Decordova-Reid did. The man who scored all of those goals for Bristol City last season surely had to be the first one you'd look to use if you wanted to shake up your attacking play with what was available on the bench today, but I can only presume that the need for a target man type was considered more important than what the 10 million pound man can provide.

As it was, all of City's best attacking play came after Decordova-Reid's eighty seventh minute introduction and I must say that, on the biggest day of our season, it seems to me that, having, to a large extent, stuck with his Championship players from last season, Neil Warnock admitted defeat today when it came to the two men he spent over 20 million on last summer to sharpen up our attacking play.

Whatever the truth about that, Neil Warnock, with his usual honesty, admitted that he might have got his selection and tactics wrong for the game which has probably defined our campaign – sadly, when it mattered most, our manager had his worst game of the season.

There is no doubt that Neil Warnock has done things very much his way in his long managerial career, but, for someone who has never struggled to find a job over the past thirty odd years, it is telling how few of those years have come in the top flight.

Yes, our manager rubs people up the wrong way at times and I daresay this has cost him some big jobs in the past. However, having definitely earned the right for a full season tilt at the Premier League following his record breaking eighth promotion, the only conclusion you can come to as an almost certain relegation looms is that all of those pundits and supporters of other sides who said Neil Warnock cannot hack it in the top flight look like being proved right – Neil Warnock did it very much his way this season, as we all knew he would, and, once again it looks like it's going to be found wanting,

As is nearly always the case, City's possession figures were down in the twenties or thirties (indeed, they were at eighteen per cent for the first half an hour of the second half in a match where we desperately needed three points). It's not just been under Neil Warnock that we've become well used to the opposition having much more of the ball than us – it was the same under Malky Mackay to some extent, it definitely was under Russell Slade and even with Ole it was on the low side.

The contrast between what the first team has to offer when it comes to keeping the ball and what you see from our Under 18 team was, again, abundantly clear as our Academy lads provided some good cheer on this miserable day for the seniors by beating Leeds 2-1 at Cardiff City Stadium this lunchtime to reach the Final of the end of season Play Offs in Professional Development League 2.

City's youngsters dominated possession in an evenly fought affair with the runners up in the Northern Section with Keenan Patten and captain Sam Bowen at the hub of a side that played in a manner that offered a total contrast to what we see from the first team.

For all of City's poise and patience, it was the visitors who carried the greater early threat, particularly when Warren Burwood, a late call up after first choice keeper George Ratcliffe cried off with an injury minutes before kick off, touched an effort by Theo Hudson on to a post and then it took a great block by Joel Bagan to prevent a goal from the rebound.

Leeds had one or two more moments that caused us problems, but were then undone midway through the half as Patten picked his way past a challenge before steadying himself and firing high into the left hand corner of the net to cap a very good opening quarter from the midfield man with a fine goal.

Burwood made another good save to deny one of the Leeds centrebacks following a corner, but City finished the half strongly and after Kieron Evans did well to find Sion Spence down the left, last season's top scorer showed good acceleration to get beyond his marker to the byeline where he knocked over a low ball that keeper Rae couldn't deal with and Dan Griffiths was able to sweep the ball home from very close range to put his side in control.

City started the second half confidently and played their best football in the third quarter of the match. After a quiet first half, Ntazana Mayembe was more to the fore as he caused problems down Leeds' right, but, too often, his good approach play was undone by either a wrong option or a poor delivery.

When Mayembe switched sides for a short while, he got in an effort which drew Rae's best save of the match while Bowen also went close and Evans wasted a decent chance by firing over after being very well set up by Griffiths.

However, Leeds then rallied by, first, drifting a free kick from the edge of the penalty area just wide and then centre forward Haugland got the wrong side of Connor Davies and shot low past Burwood to narrow the deficit with twenty minutes left.

The next fifteen minutes or so were awkward for City as the ball bounced around not too far from their goal on a few occasions, but the thing that won them the South section title more than anything else was probably their defending and, just when they needed to be, centrebacks, Bagan, Ben Margetson and Ryan Kavanagh all proved themselves to be capable and composed.

One run out from the back in particular from Margetson lifted the siege and appeared to raise the spirits of his team mates because, after that, they kept possession well and took play into the corners effectively for the last five minutes of normal time as well as the four that were added on.

Leeds will feel that could have got something out of the game,, but I thought City just edged it because of that bit more poise and control they showed.

In the other Semi Final between Northern Section winners Sheffield Wednesday and Southern runners up Ipswich at Hillsborough, a solitary first half goal was enough to take the home side through. There's no word yet as to where the Final will be played, but, based on the way Wednesday kept us at arm's length during their 1-0 win at Treforest about a month ago, they'll be a stern test for us wherever and whenever the match takes place.

Finally, congratulations to Blaenrhondda FC whose promotion to the Premier Division of the South Wales Alliance League was confirmed today despite a 4-0 loss at Champions Porthcawl Town Athletic.