Well, that wasn't as painful as I feared it was going to be. Cardiff City slumped to their seventh consecutive league defeat (the first time this has happened since 1933/34 apparently) and, of course, we didn't score again as we were beaten 2-0 by Fulham at Craven Cottage tonight.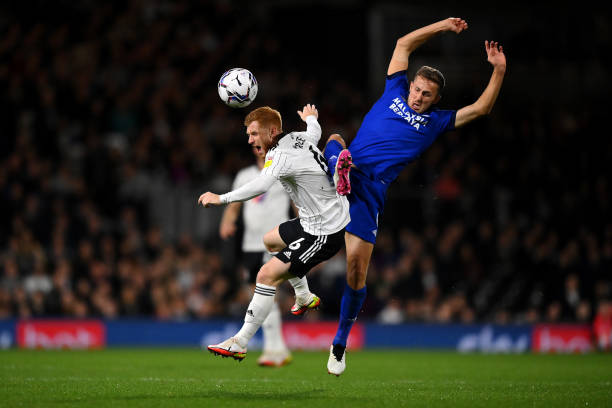 However, if you were to ask a Fulham fan what they thought of their team's performance, I think they would say something like they were some way from their best and that it was a routine, but deserved, win.
As a City fan, I couldn't argue with that and it shows how bad things have become that a loss by a couple of goals, which could have been a lot heavier on another night, is being seen almost as a step in the right direction.
Don't get me wrong, this was certainly better than Sunday's surrender before a ball was kicked at Swansea and it was good to see us revert to the sort of formation and approach we saw against Reading.
In short, we had a go at Fulham and, although it was nothing like the Reading game in terms of balance of play and attempts on goal, we could feel aggrieved that we did not get that elusive goal as Sean Morrison's header at Blackburn remains the only one we've scored in the losing run.
I must admit to being mystified once again by our manager's selection and tactics though. For the life of me, I don't get why, when faced with away games against Swansea and Fulham, Mick McCarthy would pack his team with central defenders and play with a flat back five with four not far in front of it against a team that was one place above us only by dint of a better goal difference and then revert to what could be called a 4-3-3 against a team that moved up to second in the table tonight!
Not only did McCarthy ditch the back five, he actually only selected two centrebacks as Perry Ng and Joel Bagan returned as proper full backs. Just selecting the two central defenders meant that the Morrison/Nelson/Flint axis was finally broken up with the first named dropping to substitute and the second not even featuring in the eighteen.
Aden Flint took over the captaincy with Mark McGuiness alongside him and with Joe Ralls out with a collarbone injury and Leandro Bacuna not featuring at all (he did pick up an injury at Swansea mind), there was a feeling of out with the old and in with the new to some extent as Sam Bowen and Rubin Colwill came back in with Keenan Patten and Keiron Evans among the substitutes.
I will not give a blow by blow account of the game in which I highlight all of the goalmouth incidents because this would end up being a very long piece indeed if I did. This was a game that really should have had more than two goals in it as heavy rain throughout led to the sort of conditions that forwards always seem to like and there were near things aplenty, mainly, but not exclusively, at the end we were defending.
City's first scare came inside the first three minutes as former Cardiff man Bobby Decordova-Reid nodded just wide, but, shortly afterwards, Keiffer Moore crashed a shot from the corner of the penalty area on Fulham's right against an upright and behind for a goal kick. Within another five minutes or so, the home side had also hit the woodwork and the pattern for an entertaining first half was set.
For a while, City, with Colwill doing well down the left, matched Fulham's attacking intent and troubled the highly rated hosts, but, gradually, their opponents began to take command as City's Achilles Heel, substandard passing, increasingly reared its ugly head..
It was frustrating, because I definitely got the impression that City could make life difficult for the Fulham defence if they had been able to maintain possession better, but, despite Will Vaulks, who came in to play alongside Marlon Pack, having one of his better games this season in my opinion, our passing was, yet again, not up to scratch and the difference in the speed at which the two sides moved the ball became more marked as the minutes went by. The consequence of this being that as the half went on, there were almost continuous waves of Fulham pressure coming at us as ball retention became more difficult.
With some good defending and blocking, plus a little luck, City were able to reach half time with the match goalless as Colwill with a shot not too far wide and McGuiness with a header which went just over, issued reminders that we still carried a threat of our own.
Sometimes the half time interval can help to change the pattern of a match, but, sadly, that didn't happen here as Fulham continued to have the upper hand with City's defending slowly becoming more desperate as they were unable to take the sting out of proceedings by retaining the ball for half a minute or so.
When the goal eventually arrived, it came from someone who has been synonymous with strong Fulham Championship teams in recent years, Tom Cairney. The Scottish international had come on as a half time sub for Harrison Reed who'd picked up a first half injury for his first appearance since being injured last December and he emphatically fired a left footed shot from the edge of the area past Alex Smithies after the ball had been half cleared to him as our defence creaked under the strain of what was continuous pressure.
Within a few more minutes, the match was as good as over with little over an hour played as, incredibly, City conceded a goal after they had tried to play out from the back from a goal kick!
Unfortunately, the way they went about it only served to prove how little practice they have had at this facet of the game – there were no split centre backs or anything like that just Smithies quickly, and inexplicably given the number of opponents close by, passing to McGuiness to his left and the man who had scored for Ireland's Under 21s last week, who was otherwise good tonight, promptly went further left to Bagan who was stuck on the touchline with opponents close by to press him. This doesn't fully excuse the pass Bagan came up with though as he presented possession straight to a white shirt and the ball was quickly transferred to Aleksandar Mitrovic who was left with the simple task of beating Smithies from around the penalty spot.
As always happens with this manager, it was the youngsters who made way when substitutions were made. Bowen, quieter than against Reading, again played in the number ten type position which I think suits him less than a deeper role where his ability to retain possession would be beneficial to this team, made way for James Collins, while Ryan Giles and Colwill were replaced by Mark Harris and Evans, with the latter giving the best of his three first team substitute appearances so far as he put over some good crosses from the left while giving experienced home right back Dennis Odoi a few problems.
Flint and Moore both came close to netting the goal which you feel would do quite a bit to lift confidence, but it must be said that City had reason to be grateful to Smithies as well for some fine saves which kept the score down to two.
In the end, Mick McCarthy has lost one of the two games he's reportedly been given to save his job, but I get the feeling that, even if we were to beat Middlesbrough on Saturday, it might not be enough to save him.
Maybe it was just a coincidence, but, on the face of it, there seems to be no logical reason why former Sheffield United manager Chris Wilder was at a very rainy Craven Cottage watching the match unless……….
In saying that, Wilder apparently has been going to games in London lately (he's watched Charlton twice it seems) and so there's a strong chance there's nothing to be read into his presence at this game.
On further reflection, it seems pretty unlikely that someone who was seriously being touted as manager of the season for 19/20 would be interested in coming here, given the reputation that City must have within the game under this ownership – Wilder's stock has fallen a fair bit after Sheffield United's disastrous 20/21, but not to the extent that he'd want to come to such a poorly run club on a record equaling run of successive defeats surely?
https://mauveandyellowarmy.net/