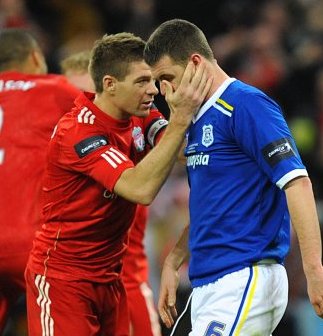 Liverpool captain Gerrard lifted the League Cup at Wembley on Sunday after his relative's miss handed the Reds a 3-2 win in the shoot-out following a dramatic 2-2 draw that saw Cardiff's Ben Turner equalise with only two minutes left in extra-time.
The last time Liverpool won a trophy was in the 2006 FA Cup final when Gerrard's heroic display dragged his team to a penalty shoot-out triumph over West Ham, leading the match to be dubbed "The Gerrard Final".
The first trophy of Kenny Dalglish's second spell as Liverpool boss will also be remembered for a decisive intervention from a Gerrard -- this time the lesser known one.
England midfielder Gerrard had missed the first penalty of the shoot-out, yet he finished victorious when his cousin's spot-kick flashed wide of Jose Reina's post.
"One of us was going to be sad, one was going to be celebrating. It happens. I've got mixed emotions at the moment but I feel for Anthony and Cardiff," Gerrard said.
"It's always cruel when it goes to penalties. There has to be a loser. Cardiff were superb today."
This was the first time Liverpool's 31-year-old captain had faced his 26-year-old cousin in a competitive game and it was fitting they should meet in front of a full house at Wembley after spending their formative years playing in pretend cup finals while kicking a ball around the streets of Merseyside.
Growing up a few doors from each other in Ironside Road in the Huyton district of Liverpool, the Gerrards were rarely seen without a football at their feet as they learned to love the game.
However, their paths to an emotional family reunion in the League Cup final couldn't have been any more different.
Liverpool's Gerrard was earmarked as a star in the making from the moment he first pulled on the famous red shirt and he has fulfilled that potential in spades.
His greatest moments include leading the club to Champions League glory in 2005 and almost single-handedly winning the FA Cup six years ago.
In contrast, Gerrard's cousin has had to wade through English football's backwaters to make it to Wembley.
Gerrard, a boyhood Liverpool fan, played in the same Everton youth team as Wayne Rooney but was released by the Toffees in 2005.
He had to work his way towards the top with spells in the lower leagues at Walsall and Hull and is finally reaping the rewards at Cardiff.
With his more famous relative's medal collection in mind, Gerrard made it clear before the match that not even family ties would stop him from doing whatever it took to win.
"If he goes through one-on-one in the last minute and we are winning, let's be honest, I am going to take him out!" the Cardiff defender said.
"I'm not going to lie. He has too many winner's medals! If this is my only chance to get a winner's medal, I must take that opportunity. He would do exactly the same thing if he was in my place."
Sadly for Gerrard, his decisive intervention was the kind he will want to forget as soon as possible.
Source: AFP
Source: AFP