http://mauveandyellowarmy.net/
No one can deny that Cardiff City's achievement in reaching the FA Cup Final in 2008 and then following that up four years later with an appearance in a League Cup Final was a praiseworthy one, especially when you consider that they were a Championship club at the time.
However, it seems to me that the attitude of the various managers and squads of players we've had since then has been one of "well, you've had your fun in the cups now, so you won't mind if we go a bit easier in these games from now on will you – we don't like playing in these matches you see",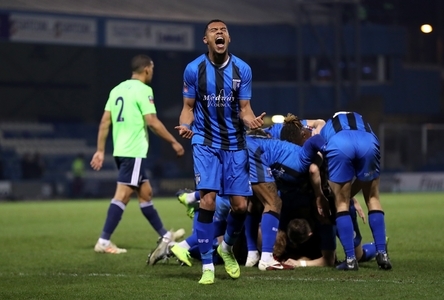 Maybe there are City fans who have no problem with that. After all, as embarrassing loss has followed embarrassing loss in cup competitions since the heartbreaking penalty shoot out defeat by Liverpool, there are always supporters only too willing to express their contentment that we can now "concentrate on the league".
Coming from a generation that used to count down the days to the FA Cup Final because it was the one club game you could watch live on the television every season, I just don't get that attitude.
Today's depressing 1-0 defeat in the Third Round of that competition by League One strugglers Gillingham hurts me as much as all of the other miserable losses we've suffered in recent years – just because the losses have become so predictable now doesn't make it any more easy to take.
Five years ago, we had what by modern standards is a very long run in The FA Cup when we reached the Fifth Round before letting ourselves down again by losing at home to a Wigan side who were a division below us at the time.
The Third Round that season saw us gain what may well be our best result in the competition since we won at Middlesbrough in 2008 when we came from behind to beat Newcastle 2-1 at St. James' Park. At the time, I can remember being struck by the amount of vitriol hurled at their team by Newcastle supporters after that match, but I understand it more now, because they were sick and tired of watching their team bow out of the cup in the early rounds with yet another limp display – I understand it more because it's a habit my team has got into now.
Many of the Cup defeats we have suffered recently annoyed me because it looked like some in the team weren't trying, but I wouldn't accuse any of today's side of that. Sadly though, all I'm doing there is paying the team a very back handed compliment because it wasn't effort that was missing today, it was quality.
Week after week I check the possession figures in our matches and see that we have struggled to keep possession of the ball for more than a third of the game. While I'm doing that, I'm always thinking wouldn't it be great if we were the ones having 60 and 70 per cent possession for a change.
Well today it happened and all I can say now is be careful what you wish for! After the now traditional threat on our goal within the first two minutes (this time goalscorer Elliott List shot straight at Alex Smithies after working himself a promising position following some flimsy City defending), City spent the rest of the first half almost completely dominating possession.
For a while, I was thinking this is fantastic, we're bound to score soon, but gradually it began to dawn on me that, for all of the possession and passes, there was very little threat to the Gillingham goal. People who didn't watch the match may well look at the stat which says we had twenty one goal attempts and think I'm being unduly harsh on City there, but the really telling figure is that only four of them were on target.
Despite the domination of ball and territory in the first half, the only real chance we created came early on when our best player, Nathaniel Mendez-Laing, played in Joe Bennett who should have scored rather than allow home keeper Tomas Holy to block an effort which displayed a lack of belief from the full back. Apart from that, our goal attempts in the first half consisted almost exclusively of long range efforts from a variety of players that flew high, wide and not very handsome – all that was on display for most of these efforts was a lack of technique from the City players when it comes to hitting shots cleanly and accurately.
Although outplayed in many ways, Gillingham could justifiably claim that they had created the better chances with top scorer Tom Eaves headed wastefully over just before half time after a quick and direct move by the home side which revealed more of a cutting edge than anything City had shown.
The second period saw Gillingham get more of the ball and they were soon creating the best chance of the game so far as Parker fired over from close in. By now, I was resigned to us losing the game because that's what we tend to do in Cup competitions, yet, with less of the ball, we were having more chances.- Mendez-Laing came closest with an effort which came back off the woodwork and there was a Callum Paterson shot from close in that was cleared off the line. Generally speaking though, there was the same lack of technique in shooting which ensured that efforts were not going where they were intended to and the same applied to final passes that were not accurate enough when it looked like the obdurate home defence could be opened up – it was all far below what you would expect from Premier League footballers.
The goal when it came was a very sloppy one from a City point of view – Morrison might have been fouled in the build up to the goal, but it somehow looked wrong to see our big centre half and captain stood still as he reacted to what looked like a minor injury while play was going on around him in a very dangerous part of the pitch for his team. Bruno Manga's tame challenge which followed didn't look good either, nor did Bennett's supposed attempt to block the shot or Smithies' dive to one side as List's effort from fifteen yards out flew into the middle of the net.
City had chances to get back on terms in the quarter of an hour which remained, but were let down by the same lack of precision that haunted them all game and it was Gillingham that came closest to getting the match's second goal when a shot was deflected on to our crossbar.
So, congratulations to any Gillingham fan who may be reading this, but you didn't kill a "giant" today, you beat the usual modern day Cardiff City cup team which can always be overcome by any lower league team which shows a bit of spirit, desire and organisation – the only difference between this cup exit and all but one of the embarrassments we've suffered since 2012 is that we happened to be a Premier League team when it happened this time.
There's one other thing I should mention about the match– completely predictably, Cameron Coxe, Lloyd Humphries and James Waite, the three youngsters that travelled to Kent as part of a nineteen man squad, didn't make it on to the pitch. In fact, Waite didn't even make it onto the bench, as he was the one in the nineteen to miss out completely.
Given the way we dominated possession in the first half especially, it turned into a game where Waite's lack of size would not have stood against him as much as it would in a "typical" game under Neil Warnock's management. Also, considering the miserable standard of finishing displayed by the more established players who were used, Waite's ability to usually hit the target when presented with an opportunity would have been most welcome, as, indeed, would have been Humphries' impressive technique when striking a shot from distance – the recent goal he scored for the Under 23s against Colchester put the attempts by the first teamers seen today into their proper perspective!
At least the Under 18s managed to consolidate their position at the top of the table following a 3-2 win at Watford. The in form Dan Griffiths notched another goal while it was good to see Sion Spence get back into scoring form after his injury lay off with a couple – with second placed Ipswich beating Millwall 5-3, the top two have now opened up a cushion of five points (that gap is eight points in City's case) over the pursuing clubs and so must be strong favourites to qualify for the end of season play offs. Also, congratulations to Blaenrhondda FC who made it into double figures with an 11-0 hammering of bottom of the table Llangwynyd Rangers BGC which keeps them in fourth place, five points behind the side in third and six adrift of the team in second, but with five matches in hand on both of them.
Once again, I'll finish with a request for support from readers by becoming my Patrons through Patreon. Full details of this scheme and the reasons why I decided to introduce it can be found here, but I should say that the feedback I have got so far has indicated a reluctance from some to use Patreon as they prefer to opt for a direct payment to me. If you are interested in becoming a patron and would prefer to make a direct contribution, please contact me at paul.evans8153@hotmail.com or in the Feedback section of the blog and I will send you my bank/PayPal details.