... in both his pre match press conference for this evening's FA Cup clash at Bristol City and in
this interview with Sky Sports
.
Having listened to what he has to say, it seems to me that after starting off expressing sentiments which sound quite reasonable and understanding, Dave Jones goes wrong when he starts talking about the "awful atmosphere" all through the Blackpool game because he shows that he appears to have no understanding of what being a Cardiff City fan feels like for many at the moment.
Our manager has often said that he has a cold and unemotional approach to his profession. For example, you don't get any sentimental stuff from him before City games against one of his former sides - his approach is that the three points is the priority. Given that he is a professional earning his living from the game, an attitude like that is right in so many ways - okay, the "just another game" approach to recent matches with Swansea have shown some of the limitations to such a philosophy, but, overall, there are many ways where making decisions from a detached point of view has to be better than letting the heart rule the head.
However, one thing the unemotional approach Dave Jones favours does do is make it very hard for him to form any sort of bond with supporters of the club he is employed by. The recent fiftieth anniversary of Bill Shankly's appointment as Liverpool manager bought to mind a member of Dave Jones' profession who, by leading a team out of the level we are now in to become one of the great powers in the land, established himself as a far more successful manager than our manager has been up to now. Yet Shankly was also able to identify fully with the Liverpool supporters - Dave Jones is incapable of, or more likely, unwilling to do anything that comes remotely close to forming the sort of bond that Shankly had with the Koppites at Anfield.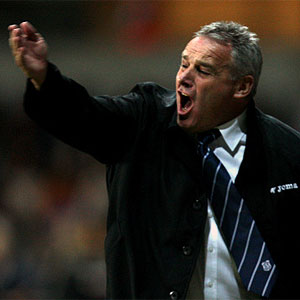 Mention of Liverpool serves as a reminder that Dave Jones is or was an Everton fan. Perhaps he might be able to understand a little how many City fans currently feel if he imagined how he would react if he went to watch a game at Goodison Park as a supporter under the following circumstances;-
1. News had emerged in the lead up to the game that Everton had been served with a winding up order by the tax man for debts that the club Chairman, for whom the difference between his public pronouncements and what actually happens means that he must be either a liar, incompetent or a mixture of both, was telling everyone had been paid months earlier.
2. About 60% of the club's support had committed to buying a season ticket over the Christmas period for the following campaign in a time of national recession and had been promised that proceeds would go on buying players during the January transfer window to aid Everton's bid for Champions League qualification only to learn that the money may have to go on clearing the debts that the Chairman said had been settled.
3. Talk of the Champions League brings back memories of Everton's pitiful failure to qualify for the competition in the previous season when they, with four games to play, blew an advantage of eight points and a +18 goal difference to rivals who only had three matches left.
4. In their previous two matches fourth placed Everton had lost at home to the team then bottom of the table and then threw away a 4 goal interval lead to draw 4-4 at the side who had dropped to bottom place following the previous round of results.
How would Dave Jones and the rest of the Everton support have felt in a case like that? Perhaps the atmosphere may have been "awful" throughout the game under those circumstances and, perhaps, a few (and the word "few" needs to be emphasised) of those present might have started booing the team during and after the game if it had seen their team hanging on for a draw for most of the second half? How would people react if the very well paid Everton manager, who makes a virtue of his emotional detachment from the club, criticised those supporters for their negativity?
Of course, Everton are not a very good example to compare with Cardiff really. After all, if you are an Evertonian you support a club that has enjoyed virtually uninterrupted top flight football since they joined the Football League over one hundred and twenty years ago. On the other hand, I am pretty sure no Cardiff City fan under the age of fifty has watched their club play the equivalent of Premiership football (they would have to have had their nappy changed at half time if they had) and they have also had to get used to a never ending stream of good players being sold as highly paid club officials always tell them that the proceeds will go towards servicing the debt which still gets larger and larger.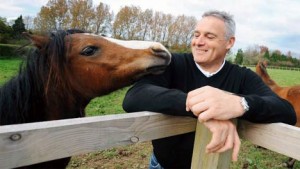 I look at my club with the passion that our manager doesn't have and so, maybe, I am a letting my bias show here, but, having seen sides such as Leyton Orient, Northampton, Carlisle, Luton, Oxford and Swindon all play top flight football since we last did as well as having to watch teams such as Stoke, Burnley and Hull on Match of the Day every week, I honestly feel that we have to be serious contenders for the title of the biggest under achievers in the Football League. In terms of lack of success when it comes to league status relative to catchment area, I can only think of Preston and Plymouth to rival us and, at least, Preston have had a few Championship play off campaigns to raise expectations lately while Plymouth have always got a geographical disadvantage when it comes to recruiting good players.
Not unreasonably, Dave Jones, only ever talks in terms of the last four and a half years at Cardiff because that is all he knows, so maybe he doesn't realise that long term supporters have had forty years and more of disappointment and anti climax when it comes to following this club. Perhaps that is why there is a tendency for us to go a bit over the top when the side shows promise (like they did against tonight's opponents back in August) and why a few months later everyone seems to be in the depths of despair but five decades of false promises from a variety of chancers tends to to do that to you.
A couple of years ago at another time when supporters were disgruntled an under pressure Dave Jones rubbished criticism he was getting by saying that it was from people who hadn't played the game professionally. Well, in the current circumstances, I can't help thinking that the boot is on the other foot to some extent here because our manager is getting involved in something that he doesn't fully understand - even if he was one once, he has now forgotten what it is like to be a fan.

http://mauveandyellowarmy.net/