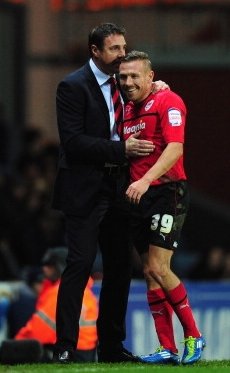 After Mark Hudson's first half opener Craig Bellamy scored Cardiff's second, while Heidar Helguson provided late assists for Lee Mason and Kim Bo-Kyung as the Bluebirds made it five wins in six unbeaten games.
Malky Mackay said: "You can't treat everyone exactly the same in terms of how we train them.
"The 19 and 20-year-olds are trained slightly differently to the 34 and 35-year-olds - I wish it had been like that in my time but it wasn't.
"Craig and Heidar will have a day during the week where they'll go to the pool and do some stretching and not go out on the grass but come 7.45pm on a midweek night and 3pm on a Saturday they show that experience.
"Craig's been out for four weeks this season with a swollen ankle and a couple of weeks with a knock to his knee but I want bravery.
"He shows it every day in training. He wants to train every day and I have to pull him back and say 'no, you're going to the pool today'.
"The work that him and Heidar did for the second goal was incredible - he flicks it on to Heidar, Heidar flicks it back to him and he puts a magnificent finish in.
"They've both got their heart on their sleeves and that's what I like."
Blackburn boss Henning Berg could say little other than to admit his team were well beaten.
"We are disappointed to lose another game at home," said Berg. "We think Cardiff were the better team all over, although maybe not as much as the scoreline suggested but you can't have any complaints.
"They were more experienced than us, they had far better finishing and they also defended better than us - I think that was the key in this game.
"We were not happy with the way we defended - we can defend much better than we did and, also, the way we used the ball in the first half is a little bit of a way off where we want to be.
"We can play better than this."