Cardiff's Neil Harris: "It's a huge achievement. Every bit of praise for the players and the staff has been earned. I came in as not a huge name and I had to prove myself, every week. The play-off (semi-finals) are about four halves of football and you need momentum.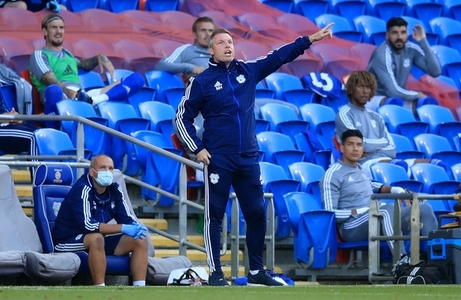 "I would have liked our fans to have been there tonight," Harris added.
"We would have had a sell-out tonight and they would have carried us through. They deserve a special mention.
"We might feel the loss of fans more in the play-offs.
"We do now lose something not having the fans. No disrespect to the other teams, but we have the most passionate fan base of the teams in the play-offs. Teams would fear coming here and maybe we wouldn't feel the same way going away."
Hull's Grant McCann: "It's been disappointing for a few months now. It's really frustrating but one thing we have now is a chance to regroup and bounce back. It's going to be difficult because League One is a tough league. Two to three weeks of hard work to rebuild start now."