Mark Warburton: "There was a clear foul on Tyler Walker and it was inexplicably not given - and we found ourselves 1-0 down. Tyler was bemused - 20 seconds earlier it should've been our free-kick, those are the fine margins.

"I have to be careful what I say but I thought it was a nailed-on handball

"We can't cry over that now. All credit to Neil and his team.
"We were frustrated at many things," he added. "The continual delaying. We have to learn, Cardiff are very good at what they do.
"But that has to be managed better than that by certain people.
"There's other ways of dealing with that - I have to be very careful what I say, I want to keep within the letter of the law.

"Surely you deal with that early, stamp it out and it doesn't become a problem.

"When I see someone stroll off the park and take that long, to applause, I find that very frustrating.

"But Cardiff are where they are because they deserve to be. I'm very respectful towards Cardiff, but they do have physicality.

"But we have to deal with it, it's too easy to say we were bullied."
Would Warburton be speaking to referee Peter Bankes after the game?
"We will do yes. I have no problem with Cardiff City, zero problem with Neil.
"It has to be managed differently."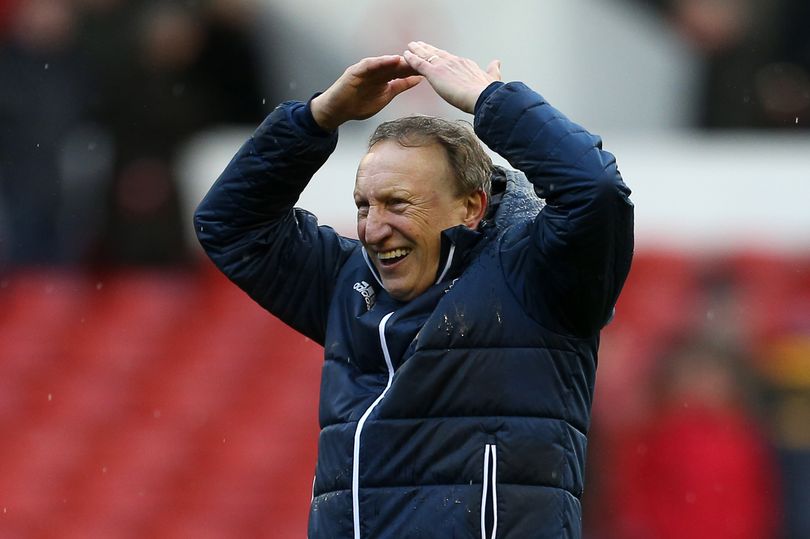 (Neil Warnock does the Ayatollah as he gleefully takes three points from the City Ground)
But Neil Warnock was ready to answer.
He hit back, saying: "You're bound to be disappointed when you're beaten comprehensively. I'm glad Bryson did take his time, he had a sore Achilles. I didn't tell him to get hurt and walk off slow to stop him doing any more damage. Do you want him to sprint off?
"What you should be talking about his how lucky they are to have 11 men on the field. There was a horrendous challenge from Traore (on Paterson), as bad as you see, and he only got a yellow. I'd forgotten about that so I'm glad you've reminded me. It should have been a red straight away, no doubt. Talk about people getting booked for time wasting and only a yellow for Traore – there's something wrong there."
And former Forest hero Kenny Burns piped up with his pathetic personal jibe at the Cardiff manager.
"Is it me, or is Neil Warnock starting to look a bit like Ken Dodd? The only thing is I don't find him funny."
"He might have enjoyed a lot of success over the years as a manager, and he looks to be doing the business once again at Cardiff City, but he's not my cup of tea.
"I know Forest talked to him when they needed a manager a while back, but I'm glad that never came to anything, because I don't like his attitude or the way his teams play.
"He can have the three points from Sunday's match between the Reds and Cardiff, I'd much rather have a manager like Mark Warburton in the home dugout at the City Ground – a likeable manager who gets his teams to play exciting, attacking football.
"While Warburton will no doubt have sent his team out to try to play their flowing, attacking football, Warnock sent Cardiff out to time waste by the look of it.
"Who time wastes when a game is 0-0? Warnock's Cardiff, that's who."